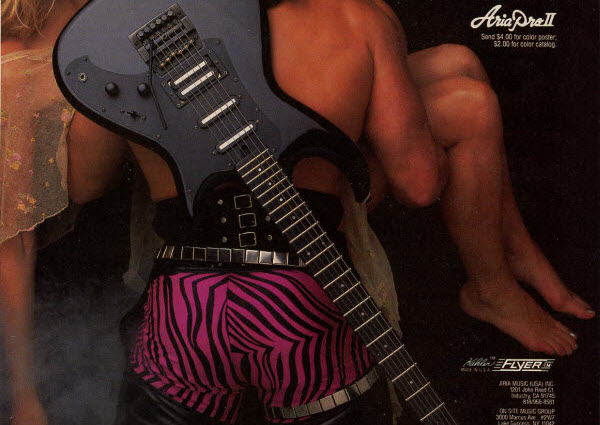 Sex always sells…or so they say. And certainly when you're marketing an electric solidbody guitar to testosterone-heavy adolescent and young adult males, showing a bit of female flesh is sure to get attention, whether or not it will move product. Few guitar ad campaigns have pursued this strategy with more verve than the one for Aria Pro II's RS Series Knight Warriors in the mid-1980s!
The association between guitars and "getting the girl" is almost as old as mankind. Or at least it seems so. In studies of "primitive men" (who are, of course, not really the same as "early man," despite their low-tech and seemingly non-evolved conditions), musicians frequently have a special place in the culture. It's not uncommon for musicians to travel around among different villages, and there is plenty of testimony about these wags being a threat to the virtues of local village maidens. It would take some work, but I'm sure one could fairly easily assemble a list of musicians from the historical period who got into the drawers—and subsequent trouble—of the fairer sex. It would probably be a long list.
Indeed, I recently read Miguel Cervantes' Don Quixote de la Mancha, one of the first novels written in 1605 and 1615. Guitars are mentioned four times, three in the context of serenading/wooing lovers. Two instances were in the context of guitarists coming to town and seducing the local beauty, before absconding with her virtue and fortune.
Of course, we all play guitars here and if I asked for a show of hands of those of you who first got into music motivated by trying to impress chicks, I imagine the majority of readers would be waving the flag right now! (I've never understood why there are so many fewer female guitarists, but the few I've known have had to work more at fending off guys than attracting them.)
As I said, there's a whole sub-class of music advertising that features babes in various states of dress (or not) mugging to get you to look at this or that guitar or amp. Aria's Knight Warrior ads went one further, fusing heroic fantasy with male libido. A sort of Ivanhoe in skivvies (with his guitar strapped on his back) holds the hot gal he's either just rescued or is carrying off, to the boudoir, no doubt. (Or maybe those striped silk shorts were supposed to be knight's pants, not BVDs…) Laughably unsubtle, but it never failed to get my attention, and implant a desire to find out what the fuss over the Knight Warrior was all about. In due time I found this one, suitably after it had gone out of fashion.
Aria Pro II introduced its Rev Sound (RS) Series of guitars in the late 1970s, initially neck-through competitors to Ibanez's Musician series. Pretty nice guitars. In the early '80s, these became svelt bolt-neck, slightly dinky Strat-style guitars with cool switching options. Most Aria guitars for the rest of the decade were based on these Rev Sounds. Next came the Cats and the Knight Warriors, which got pretty good coverage in the guitar press.
I had low expectations when I found this guitar, but Aria's guitars were consistently better than you'd expect back in the day. Many were built by the legendary Matsumoku factory. This guitar might have been built there, but by the mid-1980s the Japanese had gotten so good at making guitars, this could have been made by any number of superb manufacturers.
There's nothing not to like about a dark-to-bright red sunburst, in my opinion! The tuners are Gotoh and the vibrato a genuine Kahler, all top-notch. The electronics configuration is a little less ambitious than previous Rev Sounds, but it still has enough horsepower for any Superstrat need. These blade pickups are strong and clear. The simple volume and tone control is really about all you need in a performance context. The tone pot is push-pull, tapping the humbucker to give you single-coil sounds. If you're not hung up on brand envy, this axe would be perfectly satisfactory, even for a pro.
Now, I admit a redburst guitar doesn't make me feel like Sir Lancelot and I never used this guitar to try to pick up any chicks (in any sense of the term), so I don't know if it really would work. At my age, I don't really see myself trying it out. But I do love the Kitschy way it was marketed with sex and, if you can get past the names and image, Knight Warriors are pretty darned good examples of mid-'80s extravagance.