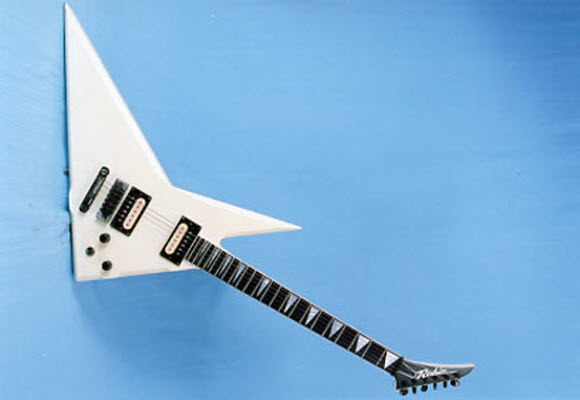 One of the privileges of writing about guitars for as long as I have is that guitar people will talk with you. I've had many memorable conversations with people who've helped shape—often literally—the guitars we all know and love. Perhaps no conversation was more memorable than a long, detailed talk I had with Dave Wintz, the man behind Robin guitars, and from whom I got this rare 1985 Robin Wedge.
Robin guitars had not really been on my radar until I picked up an odd Robin Rival somewhere or another. Then I got a swell Robin Machete and I was hooked. I contacted founder Wintz and we set a time to talk. It turned out to be about a two-hour interview conducted while Dave was on his cellphone driving a load of exotic lumber he'd just harvested himself from a Louisiana bayou back to Robin HQ in Houston. And this was back before you got unlimited minutes plans! That call probably cost Dave a fortune! Dave gave me the blow-by-blow history of Robin guitars.
Wintz and Bart Wittrock opened Rockin' Robin Guitars and Music in Houston in around 1972, selling vintage guitars. In around 1982 Wintz and Wittroc began selling Tokai "copy" guitars. They ordered another batch and the guitars arrived with no logos on the headstocks. Wintz and Wittrock were thrilled and had some Robin logo decals made up, and Robin guitars were born! It was about this time that Tokai got into trouble over copying Fender's headstock shape—the oft-told story—so Wintz came up with his own, a down-sized reverse Explorer style, perhaps the first reverse head of the 1980s. In '82 Wintz came up with his own guitar designs and contracted with Tokai to produce them.
Robin continued to source guitars from Tokai until 1984, when a trip to Japan discovered all sorts of problems with a container about to ship to them. They rejected the lot and switched production of bolt-neck guitars to ESP and set-neck guitars to Chushin. They continued to get guitars from Japan until around 1986 or possibly early 1987. At that time there were big problems in the Japanese guitar industry, including some major realignments combined with a really unfavorable dollar-yen exchange rate. Bart Wittrock decided to bail out and return to concentrating on Rockin' Robin, and Dave Wintz decided to learn how to make guitars. In 1987 Wintz opened the first Robin guitar factory in Houston and from that point on Robin guitars were all American-made.
Among the most distinctive designs of the Japanese-era Robins was the guitar shown here, the Robin Wedge, which appeared in 1985. These were built for Robin by Chushin. What can you say about this but "Wow?" There were a number of variations on the Wedge. The one seen here is a set-neck Custom with an ebony 'board; there was also a bolt-neck Standard with rosewood. All came with a pair of Gotoh humbuckers. Customs featured a stop-tail, as here, but you could special-order a Kahler vibrato, which Robin would install in Houston. Standards came with a traditional-style vibrato. The first few Wedges had the Robin reverse Explorer-style heads, but Wintz quickly re-designed it to this "reverse blade" styling.
As awkward as this guitar may look, it actually plays very nicely. It's comfortable to hold, well balanced, and the neck is very fast. Let your hair grow long (if you're lucky enough to still be able to do that!), pull on the spandex (if it wouldn't embarrass you) and get ready to jump of your amp (if your knees are still in good enough shape).
All Japanese Robins were imported in very small lots and are pretty rare. (Indeed, even American Robins were never produced in large quantities.) The Wedges were actually fairly plentiful, with about 200 produced. This is SN 0044, presumably numbered sequentially. The model wasn't all that successful, however. Some were still being offered as late as 1988 and at the time I spoke to him, Dave still had a little pile of Wedges lying in a dusty corner of the factory.
In fact, that's how this particular guitar came into my possession. After my history of Robin appeared in Vintage Guitar Magazine, someone suggested that Dave dust off one of those leftover Wedges and give it to me as a "thank you." Dave had a nice case made and sure enough this arrived at my doorstep! You are very Welcome, Dave!
Indeed, I'm really glad I got to have that phone call with Dave Wintz and write up the story of Robin guitars. They were always fine instruments. But, alas, all things must end. Robin was going gangbusters into 2008 and then the financial and housing bubbles burst and dealer orders evaporated. In the Fall of 2010 Robin was forced to close its doors. As of this writing, a few remaining Robin guitars could still be obtained through Rockin' Robin. Dave doesn't rule out reviving the brand in the future, but for now he's contemplating the direction his next chapter will take.