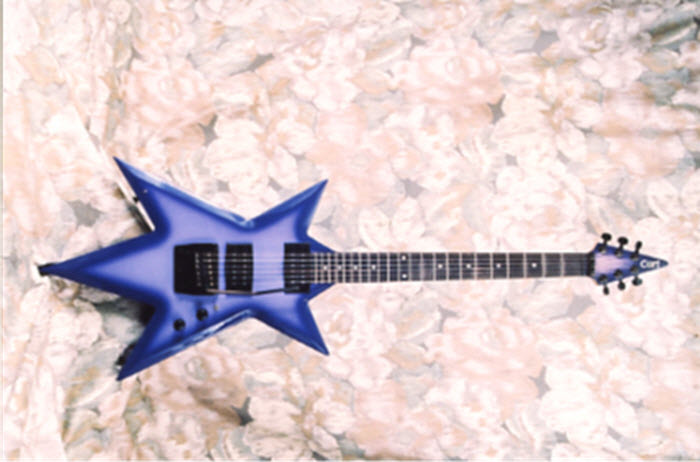 I must admit I don't really pay much attention to K-Pop (Korean pop music), which I only know exists because there was a story about in on NPR. These Techno song-and-dance groups are apparently manufactured by the government in order to help shape Korea's public image. No lie. However, when the Korean performer is a guitar and shaped like a five-point (six with the neck) star—and is finished in purpleburst—it lands at the top of my agenda.
So, what in the world is this guitar? What it is is a circa 1987 Cort Super Star made in Korea. How it made its way to a pawn shop in Pennsauken, New Jersey, remains something of a mystery, but that's where I first encountered it.
Cort was one of the first serious Korean guitar manufacturers, established in 1973 when the late Jack Westheimer, facing increasingly unfriendly yen-dollar exchange rates, decided to begin moving his guitar manufacturing operations out of Japan to Korea. He partnered with Yung H. Park and formed what would become Cort, an abbreviation of Westheimer's premier Japanese brand, Cortez. They began with acoustic guitars, later graduating to electrics, all OEM products for other companies. Around 1978 or so quality had finally reached a point where they felt they could begin to use their own brand name and Cort guitars debuted.
Cort did well, primarily as a budget brand. As the '80s progressed, Westheimer was increasingly interested in moving his brand up-scale. In around 1987, Cort attempted to introduce guitars that would change its image. Among those was the famous Dragon Sto-Stat, a Strat-style guitar with an abalone and pearl dragon inlaid on the top! I suspect the guitar seen here reflects that transitional period of attempted brand redefinition.
Everything about this guitar tends to point, as it were, to around 1987 give or take (there is no serial number). The twin humbuckers may be Mighty Mites—Westheimer owned them—and the Precision Tune vibrato is a take on a top-mounted Kahler. It wasn't long after '87 that Floyd Rose successfully claimed patent protection for all double-locking vibrato systems, putting Kahler out of business and pretty much guaranteeing that locking vibratos would be licensed and follow Rose's recessed designs. Thus, this guitar is unlikely to come from much later than 1987-88. Weird-colored sunbursts were another popular feature of the 1980s, although generally speaking they were big a few years earlier in the decade.
And, finally, the 1980s was THE decade for strange-shaped guitars, especially among Heavy Metallers, although this doesn't really strike me as a Heavy Metal axe. Some of those really pointy Ibanezes and Arias, a Gibson Futura: Heavy Metal. But a purpleburst star? Not so sure about that. Maybe Prince. Definitely Prince.
As outrageous as this guitar looks, it plays pretty decently…as long as you play standing up. Even then, well, I don't know about you but I kind of don't like to play guitars with pointy parts pointing up and down and in all directions, if you take my meaning. The pickups are basic but decent and I do prefer those top-mounted Kahler-style vibratos. While this isn't a PRS by a long-stretch, it's a respectable, well-made guitar. (Still a bit leery about those points.)
But, assuming I'm right about this being part of Cort's efforts to upgrade the image of its brand, it was another dead end. Don't just take my word for it. How many Cort Super Stars have you seen? Better yet, take a look at it! Yeah. Let's be honest, I fell in love with it because it was pretty much a joke.
Cort continued to introduce innovations in an attempt to spruce up its brand. By the late '90s they were putting out some fine guitars. Their Earth acoustics were all solid timbers and quite elegant, excellent guitars. Electrics like their Matt "Guitar" Murphy Signature, while still not a PRS, were spectacular guitars any company would be proud of.
But the Cort Super Star didn't quite do the job. Come to think of it, depending on how you feel about tightly choreographed girl-group technopop, I'm not so sure K-Pop is going to rehabilitate the Korean brand either. It's sort of like sharp points on a guitar. But that's just me.