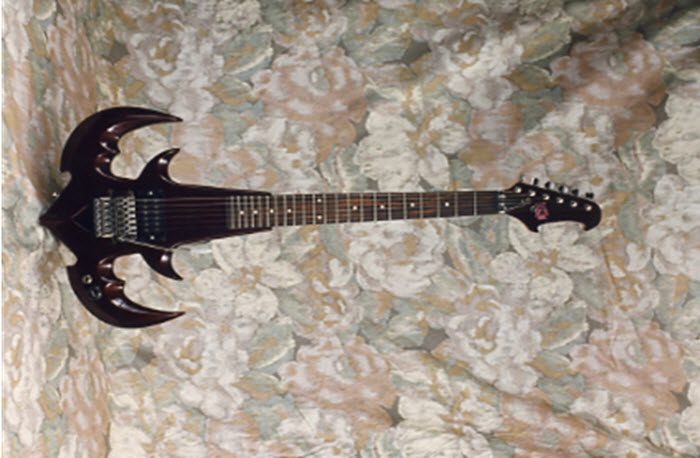 Once upon a time I was in a used window shop in Milwaukee—true story, such a thing used to exist; they sold windows salvaged from old houses (I needed a storm window)—and some old geezer was wandering around the store yelling "Mayday! Mayday! Mayday!" I thought it pretty weird and didn't immediately understand until I realized he was a Korean-era Vet and needed help and, like in most modern big box stores, there was no one around to assist him. I don't often need much assistance in knowing about obscure guitars, but, boy, is this guitar off the radar and it makes me scream "Mayday!" Despite what I do know.
I bought this guitar on eBay in 2000. How could I not? I think the seller was in Houston, and was Asian with not too great English language skills. I asked them what it was and learned it was a Parrot Tirryche made in China. OK. Upon further inquiry I learned that it was also being sold as a Scorpion QueensRyche. Well, a connection with the Scorpions and QueensRyche established an obvious Heavy Metal relationship that made more sense than tropical birds. Indeed, I was told it was made by "Scorpion" in TianJing, China. This is most likely Tianjin, a city immediately to the east of Beijing, essentially a "suburb."
Now, assuming this is true information, which I have no reason to doubt, it really doesn't tell us much of anything. Actually, I've done some research on the modern Chinese guitar industry and the area east of Beijing is, in fact, one of the regions where guitar-making thrives. (Another is on the mainland across from Hong Kong.) So, assuming this guitar was made in Tianjin, it was made near a modern center of Chinese lutherie. And, in 2000 it was a pretty early example of Chinese product. As we all know, Chinese industrial progress has been extraordinarily swift, and today some decent guitars are being made there.
I know that most modern guitars are basically rough-hewn on CNC carving machines. They began to be used in around 1976 pretty much simultaneously by Peavey for its remarkable T-60/T-40 guitars and basses and by FujiGen Gakki in Nagoya, Japan, for Ibanez, Greco and other guitars. And I know CNC machines can do amazing things. But I have no idea what the story is on this Tirryche or whatever it is. I suspect that, coming from back in Ought Zero, it actually may have been carved by hand, not a fancy CNC machine. First of all, the Chinese guitar industry was in its infancy at that time. People were only just beginning to look there for sources. Korea was still the go-to place. With no large-scale production, it's highly unlikely that "Scorpion" had a CNC machine, or the expertise to program it to make something this complex. Some little old wood-carver supplying someone who assembled the parts and sold them to a trading company is a more likely scenario. If I'm right, this actually becomes a pretty interesting guitar, which it already is intrinsically, if you, like me, like really weird guitars!
Indeed, it's pretty hard to decipher what kind of imagination created this guitar. The Heavy Metallers were partial to odd-shaped guitars, but this? Kiss and the Axe guitar I get. This is like a caricature of a Heavy Metal guitar. Or maybe it's a guitar modelled after a Chinese orthographical character that represents mental illness. Or the sign of the Year of the Boar. Or some dead Emperor.
You can actually play this guitar, though I'm not sure why you would. I mean, the embarrassment factor alone would argue against breaking this out on stage. Then again, no one else would have one… This is well enough made that you can set it up adequately. Think Korean-made Hondo and you have the guitar space it occupies.
Needless to say, neither Parrot Tirryches nor Scorpion QueensRyches hit a home-run. This is the only one I've ever seen. Even on eBay at the time (or since, not that I've been looking)! This likely was a trial balloon, limited-run guitar designed to test a market that didn't and doesn't exist. It can't hold a candle to a Peavey T-60. Or to most modern Chinese-made guitars. But, if I'm right in my assumptions and conclusions, this is a rare example of product from the early Chinese guitar-making industry, possibly largely hand-made, and, if you're jealous, go ahead and find another one!
Let me know if you've seen anything similar. Like I said, this Parrot Tirryche is one of the rare incidences when I have to cry "Mayday!" I need a storm window.