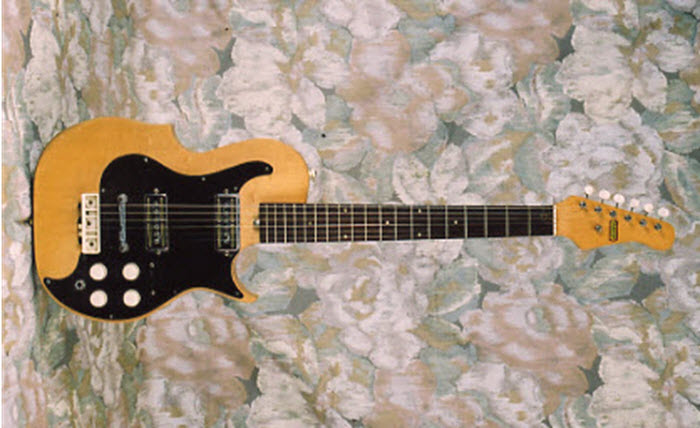 I love playing the "what if?" game. You know, like "What if farmers had rotated crops instead of planting the same darned thing every year back in the 1930s?" Crop patterns and guitars? Yeah, because it was the Dust Bowl during the Great Depression, caused in part by poor farming practices meeting drought, that sent legions of Okies and Texans west into California. That led to a rage for Western Swing and then the Bakersfield Sound. And without the products of that cultural collision we might not have had Fenders or… wait for it… Carvins.
Carvin guitars, made in Covina, California, are one of the Rodney Dangerfield's of the American guitar world. They've been around as long as Fender. They're actually still in the family (as I write this, at least!), not passing through various corporate hands or part of a conglomerate family of brands. The company has contributed numerous innovations. These days the guitars reflect a high standard of quality. Yet for some reason Carvin doesn't spring to most folk's lips when you bring up the subject of venerable guitar brands.
I confess I was not really much aware of Carvin guitars until I started collecting back in the '80s. I probably saw some of their ads in Guitar Player Magazine, but since I wasn't in the market for an electric guitar, I didn't pay attention. Plus, I was living in the Great Lakes area and Carvin was out in California. You didn't see too many Carvins.
My first Carvin was a classy 1982 DC-200KI with a body make of figured koa and a heel-less glued-in neck. Very sweet. After that I always kept my eyes peeled for interesting Carvins, and there are plenty.
I found this Carvin SGB-3 languishing in a music shop in Toledo, Ohio, before I knew much about the brand. Turns out this was one of Carvin's first solidbody guitars, originally introduced in 1955 and offered until 1961.
Carvin—the name is a combination of the founder's sons' names Carson and Gavin—was started in 1946 when a Hawaiian guitar player from Kansas named Lowell Kiesel moved to L.A. Kiesel began developing an idea for a Bakelite lap steel and introduced the Kiesel lap steel in 1947. These were distributed by Continental, at least. I actually found one of those laps a few years ago. No one knew what it was! (Knowledge is power.) I spoke with one of the younger sons Mark years ago and he recalled assembling those laps in their kitchen. These did well and the Hawaiian line was expanded and they began making Kiesel amps.
The Carvin name appeared in around late 1949 or so. Carvin's first Spanish electrics were hollowbodies sourced from both Kay and Harmony, with a Carvin pickup mounted on them in California. Until Carvin opened a couple retail outlets in the 1990s, Carvin guitars were always mail-order. Because they used that method of marketing, your guitar was basically custom-made when you placed an order. No dealers to supply, etc. As a result, Carvins have always offered lots of options, so you're likely to find a lot of variation between examples of the same "model."
As I said, the SBG solidbodies (Solid Body Guitar, SBG) debuted in 1955 with the design you see here, a big slab maple body and a sort of Stratish neck. I love the look, but there's no way that point on the top side is comfortable to play! The pickups on this guitar are probably not original, although with Carvin's "customizable" approach, who knows? I don't know who made them. They look like DeArmonds and have the date Sept. 16, 1957, which DeArmond often did on older pickups. And they sound like DeArmonds, not my favorite units. Anyhow, they're not stock Carvin pickups but they were probably mounted close to when this guitar was made. This one came with the all-important original hard case AND a Carvin brochure! These don't have serial numbers yet, so your guess is as good as mine, but they were only made for 6 years. Pretty cool—if basic—guitars!
Carvin got a little more hip with a quasi-Jazzmaster style following these first SBGs, but switched to importing parts, briefly bodies made in Japan, then for much of the 1970s made its own Strat-style bodies but outfitted them with Höfner necks from Germany. In 1978 Carvin started making all of its own guitars again, including use of glued-in necks like my DC-200KI.
Fortunately the Plains-states migration into California didn't yield The Grapes of Wrath for guitars. I'd say both Fender and Carvin are success stories. Carvin just needs a little more respect.