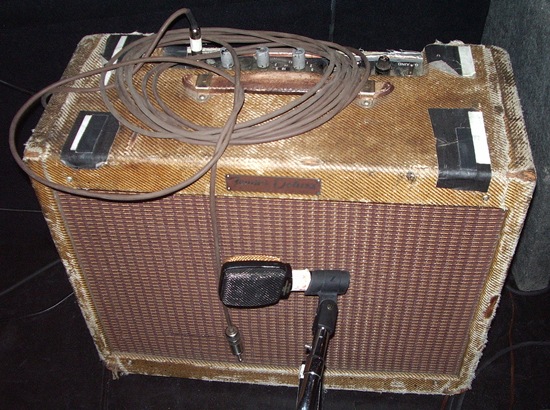 The importance of the choice of guitar amp in a recording session can't be underestimated. In this article, Ben Fargen picks a Top 10 list of legendary songs that were greatly shaped by the guitar amp used to record them.
Hey everyone! Ben Fargen here from Fargen Custom Amps & Mods. I was asked to write a post for MyRareGuitars.com, so I thought I'd write about some famous songs and amplifiers. I'm really looking forward to your comments, so let me know which songs and amps you would include in this list. Thanks!
10. Fender Showman (Blonde Brownface)
Song: Miserlou
Artist: Dick Dale
The unmistakable sound of surf guitar was created by Dick Dale's Fender stratocaster and a Fender Showman amp. One of the most important pieces of his signature sound was a custom Fender reverb unit (built by Leo Fender and given to Dick Dale as a prototype) driving a cranked up dual showman into 2 X 15-inch JBL D1 30 speakers. On the opening low E run from Dick Dale's version of Miserlou you knew surf guitar was born, and that super cool reverb-laden sound would change the history of instrumental guitar music.
9. Marshall JTM 45 Combo (Series 2, Model #1962)
Song: Hideaway
Artist: Eric Clapton (John Mayall's Bluesbreakers)
In the mid 60's – after Eric Clapton left the Yardbirds – he joined with the John Mayall Bluesbreakers. Within one year earned a huge reputation and the nickname "Slowhand". The Bluesbreakers recorded the Beano album in April 1966 and Clapton used a Marshall Series 2 1962 JTM 45 combo with KT 66 tubes. This amp coupled with the Les Paul guitar created a new kind of sound no one had ever heard before in blues. Some dubbed this the "woman" tone, and players have been chasing it for decades.
8. Fender Deluxe Reverb
Song: Sweet Dreams
Artist: Roy Buchanan
Roy Buchanan and his trusty, well-weathered 50's telecaster never abused a finer vintage amp than the Fender Deluxe Reverb. Roy was known for cranking his Fender Deluxe Reverb full blast and facing it toward the back of the stage to cut the stage volume. Roy gave his fans one screaming note after another and some of the sweetest tear-jerking blues you've ever heard. If there was ever a player that could wring blood, sweat and tears from a guitar, it was the late, great Roy Buchanan.
7. Fender Bassman (Blonde Brownface)
Song: Rock This Town
Artist: Brian Setzer
Brian setzer is the king of cool when it come to rockabilly guitar style. He brought 50's style blues/jazz guitar back in a time when AOR rock and new wave ruled the airwaves. One of the secret weapons in his tone is a Roland RE-201 Space Echo between his Gretsch guitar and two blonde Fender Bassman amps. That setup creates a great rowdy slap back echo which has become part of his signature tone.
6. Fender Tweed Deluxe
Song: Like A Hurricane
Artist: Neil Young
Neil Young is the godfather of grunge. bands like Pearl Jam and Nirvana pay tribute to Neil's wild, unleashed crunchy chords and ruckus feedback swirls in many of their songs. Neil sports his worn black beauty Les Paul, feeding his 1959 Tweed Deluxe on many of his classic tunes live and in the studio. One amazing part of Neil's rig is the Whizzer. In order to access the Deluxe's varying degrees of overdrive and gain, Young uses a custom-made amp-control switching device known simply as "the Whizzer," which consists of 2 parts: the foot pedal and the mechanical switching device that physically turns the amp's knobs. The Whizzer allows Young to stomp a footswitch on the floor to command the unit to twist the Deluxe's volume and tone controls to any of a number of determined preset positions. This allows Neil to run a pure tone set up: guitar-cord-amp. No booster, overdrive, or distortion pedals are needed to achieve his classic agro-tone…just the little 50's Fender Tweed Deluxe and the Whizzer.
5. VOX AC30
Song: Bad
Arist: The Edge (U2)
The Edge is one of my all time favorite guitarists. He created a signature sound early on in his career with a Fender Stratocaster, Electro Harmonix Memory Man delay pedal and a VOX AC30 on albums such as WAR and The Unforgettable Fire. This winning combination has served him well from the early days all the way through recent records and live work. The Edge creates complex echo manipulations coupled with the airy chime of the Vox AC30. The Edge has used a massive catalog of guitars and multi FX units over the years, but the AC30 has remained a staple regardless of the other changes. These gear details coupled with his brilliant parts make U2's catalog of songs distinguishable with just one note of the Edge's guitar. Very few guitar players in history have created such a powerful and recognizable signature sound like The Edge.
4. Supro Thunderbolt
Song: Communication Breakdown
Artist: Jimmy Page (Led Zeppelin)
There has been a lot of speculation over the years regarding the amps that Jimmy Page used in the studio during the groundbreaking debut release Led Zeppelin. Jimmy will neither confirm nor deny which amp(s) were used in the studio, and there are no known photos in the archives to corroborate my story. But…based on the tones heard on the record, it is entirely possible that the Supro Thunderbolt was used. So in keeping with the mythical ethos of Led Zeppelin, I added it in to the mix.
Now, just to add to the mystery, here's the Supro amp that Jimmy page gave to the Rock and Roll Hall of Fame. It's actually a Supro 1690T Coronado, but the features of the amp do not match up with details Jimmy previously provided when questioned about the Supro amp he used on Led Zeppelin. And the mystery continues…
3. Marshall Bass 50w #1986 (Head)
Song: Statesboro Blues
Artist: Duane Allman (Allman Brothers Band)
Anyone that loves electric guitar cannot deny the impact Duanne Allman had on the legacy of blues slide guitar. His liquid lines and fluid tone seem to jump from the neck of his Gibson Les Paul without effort. He used a simple rig of two 50 Watt Marshall heads into two 4 x 12-inch cabs. His tone on the legendary Allman Brothers recording Live at the Filmore East is a destination for anyone wanting to capture the ultimate blues tone. Nobody plays it the way Duane did. If you don't own a copy of this record, I recommend you head to the record store and pick it up immediately because you are missing out on a legendary sound and performance.
2. Dumble Overdrive Special
Song: Josie
Artist: Larry Carlton (Steely Dan)
During the 1970's and 80's Mr. 335 laid down over 500 tracks a year as a session player and on his own records. He is definitely one of LA's guitar royalty. Armed with his trusty '68 Gibson ES-335 and two Dumble Overdrive Special amps, his monster jazz fusion guitar line are unmistakable and can be heard all over popular music. Steely Dan's 6th release, Aja, employed a huge jazz influence and was their most guitar heavy record to date. This was mostly in part to the amazingly tasty tones and licks from Larry Carlton. Aja is one of Steely Dan's best and most popular records for sure. Mr. 335 obviously helped push that record to the top.
1. Marshall Super Lead #1959 (12,000 Series Metal Panel Plexi 100-Watt)
Song: Running With The Devil
Artist: Eddie Van Halen
With the release of Van Halen I in 1978, the world of rock was changed forever. Edward Van Halen hit the scene with a new guitar sound that was so fast and furious no one had ever heard anything like it before. Eddie was a do-it-yourself kind of guy, always tweaking around with modded guitar pickups, different fx pedals on the floor and different ways to drive his Marshall amplifier into saturated overdrive. In the legend of EVH, many myths about how he created his early guitar tone have run rampant for decades. Speculation about DIY mods like power resistors across the power tubes plates, AC variacs to raise or lower the input voltage of the amp, and large resistant power loads over the speaker out have spawned endless articles and arguments on forums about how the legendary early EVH sound was created. Sketchy details from the era and no solid proof of what was used from EVH or his camp during those days continue to feed the tone chasers fuel tanks. And to this day the holy grail tone from Van Halen 1 has players frothing at the mouth. But you and I know the only real truth: The tone is 95% in the hands, and Eddie's legendary sound has more to do with the notes he played rather than the tone in which he played it with.