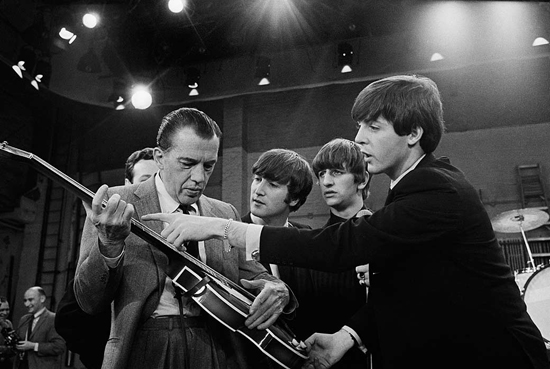 The other day I was thinking about what I would do if I had a time machine. Would I travel back in time? Or would I travel forward? Or would I travel sideways? I don't even know! But then I got to thinking: what if I could go back and be at some awesome and/or strange events in the world of music? Which events would I choose to visit? And that is the question that got me started on this list. It's not a Top 10 List. Or even a Top 20. I'm just going to start running through some events that come to mind…mainly ones where I can find a picture to share. I'm going to try to update this list on a monthly basis. Feel free to share in the comments. I'm sure you all can think of some great moments to go back and visit (if/when possible). (Note: I'm sure I'm going to leave out a lot of amazingly-important events in the history of music. And I'm probably going to leave out your favorite musicians and bands. Sorry about that. It's just the nature of lists. Feel free to comment with your own would-be entries for this ongoing list. Thanks!)
Pink Floyd & The Who (New Year's Eve, 1966, Manchester)
Admission 1 pound?!?! Honestly, if I only had a time machine for 1 trip, I'd have to use it to go back and see this show. I mean, SERIOUSLY?!?
Red Hot Chili Peppers with Nirvana and Pearl Jam (New Year's Eve, 1991, San Francisco)
Three of the biggest bands from my childhood together on New Year's Eve. Wow.
The Beatles on The Ed Sullivan Show (1964)
If *anyone* has a time machine, I'm pretty sure this is a mandatory stop. This is one of those moments that changed our music world forever.
Bob Dylan with Tom Petty & The Heartbreakers (Portland, Oregon – June 29, 1986)
I got this picture in a forwarded email. Apparently, someone found these ticket stubs in a book they checked out at a local library. Pretty sweet deal, I'd say! Anyways, I bet that was a kickass concert.
Bob Marley, Mick Jagger & Peter Tosh (1978)
Peter Tosh is one of my all-time favorite musicians. I'm not exactly certain of where this picture was taken, but I'm going to assume that it was during the recording of Tosh's album Bush Doctor because both Jagger and Marley contributed to that album. I would have LOVED to be in the studio during those sessions!
Charles Barkley hosts SNL with musical guest Nirvana (1993, Saturday Night Live)
I'm a big fan of Saturday Night Live. Yes, I know. It's terrible these days, right? Well, that's what everyone says every year.  But I've stuck with it this long. What's another year? Anyways…back in 1993, there was an episode that featured Charles Barkley as host and Nirvana as the musical guest. I could probably find this on Hulu or YouTube, but I would have loved to be in the audience that night. I'm sure the chemistry was magical. And to make things even more awesome, there were cameos by RuPaul and Muggsy Bogues. Now that is outstanding.
Madonna, Sting & Tupac (1994, Tribeca dinner party)
Not much to say here. Just an odd grouping. I miss Tupac.
Michael Jackson & Freddie Mercury (circa 1980)
I'm not sure when or where this picture was taken. All I can find out is that Michael Jackson stopped by the studio in 1980 when Queen was recording The Game. And from there, the legend goes that Michael and Freddie struck up a friendship. And apparently, they collaborated on some duets that have yet to be released. Some websites are reporting that the Michael Jackson/Freddie Mercury duets album will be released in 2012.
Mick Jagger forms group
"I hope they don't think we're a rock 'n' roll outfit." Classic!
Nirvana casting call for Smells Like Teen Spirit video
I've got a few Nirvana references in this list so far. I know a lot of people hated them. But oh well. They were a big part of my childhood, as they were my favorite band. This video was huge, and it would have been awesome to be in it.
Willie Nelson & Snoop Dogg smoking backstage at the Glastonbury Music Festival (June 2010)
Okay. I probably wouldn't use my time machine to go back to witness this. But I thought it was a cool picture. I wonder what they talked about. I'm pretty sure they don't remember!
Like I said, I'm hoping to update this every month. Please comment and share!