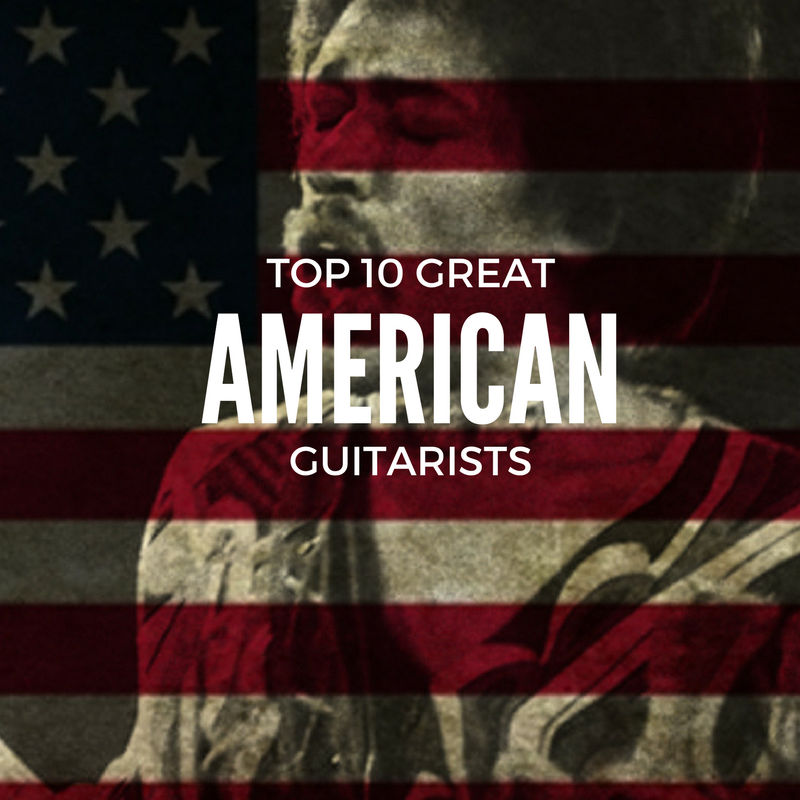 There are many lists of "Best Ever Guitarists" out there. But today, to celebrate 4th of July, let's do something different and list our Top 10 great AMERICAN guitarists!
Funny thing: some of the greatest guitar heroes ever were British. Think Eric Clapton, Jimmy Page, Jeff Beck, Pete Townshend, Peter Green, Richie Blackmore and so many others… but most of them had another thing in common – they were inspired by American music.
So we thought – why not do something different, and make a list of the greatest American guitarists?
Why would that be interesting? This is our list of guitarists who were made by America. This is just a top 10, trying to encompass players from many different styles and generations. There will be some missing… so share YOUR list with us, too! You may not agree with our choices but there's no question about this – those are not just players who happen to have been born in the U.S.A. by a happy geological coincidence, but guitarists whose very music could've only have come from America, and nowhere else in the world…
10) Elmore James: The Blues
The Blues is perhaps the most crucial of all American musical genres. It's the source of all popular American music made after it, but so much more. It documents American history – especially a part of history that is perhaps not as well documented elsewhere. We could've chosen any of the great Blues guitarists such as B. B. King or Robert Johnson, but we'll stick with Elmore James – his primal voice and guitar playing tell a whole story in their own right, and songs such as 'Dust My Broom' are informed not just by the simplicity of rural Blues, but also pointed to the electrified future of the genre – and by doing so, encapsulated the journey of many Black Americans in the early part of the 20th-century, from rural South to urban North.
9) J. Mascis: Noise, Grunge & the reaction to 80's America
J. Mascis could be described as the greatest virtuoso of the so-called "grunge" scene, so we'll pick him. A scene that spawned many bands worldwide, but which could've only have originated from America. The messy, f*cked up America of the Eighties, where if you couldn't be a winner, you were a loser. But the "slackers" and Generation X-ers who loved rock'n'roll just wouldn't fit with this world view – and the noisy music scene represented by bands such as Sonic Youth, Dinosaur Jr and which eventually exploded with Nirvana was a direct reaction to the mainstream 80s in the US, so this new kind of noise could've only have come from America!
8) Tom Verlaine: New York, New York
The proto-punk scene around CBGB's in the mid-Seventies could've only have happened then, and only in New York. Bands such as Television translated the grittiness of a semi-apocalyptic New York City into rock music. To listen to Television is to be transported to that time and place.
7) John Fahey: Rootsy Americana
John Fahey was one of the greatest acoustic guitar players ever. His best music harks back to an older, almost mythical America – a rural, simpler, pre-War America. His debut album, Blind Joe Death, was originally released as a "fake" album, supposedly containing old recordings by a forgotten bluesman. In a very American display of entrepreneurship, the album was the first ever "indie record", self-financed by Fahey with the money he earned working at a gas station!
6) Dick Dale: Let's go Surfing…
Well, we hear Australians are pretty good at surfing, but no one beats America when it comes to Surf Music! This is a sunny, optimistic and even naive style, that could've only have come from America, a child of the optimistic 50's, and with the help of some all-American gear such as Fender amps and guitars! And no one played it better than Dick Dale! (Having said that… 'Misirlou' in particular is an adaptation of a traditional Middle East song! Listen here…)
5) Duane Allman: Drivin' South
Duanne Allman was a players like few others – who could humble Clapton, who could play slide like few others, who had one of the best Les Paul tones. He could do seemingly so naturally what players such as Clapton actually laboriously studied for year – that fluid, bluesy guitar thing, you know… listening to Duane is like driving a convertible down a highway, on a sunny hot day somewhere, down South. Yep – great driving music, the likes of which only Americans could make!
4) Eddie Van Halen: California Dreamin'
Van Halen's music couldn't be more Californian if it tried. It's loud, silly, colorful… it's widescreen rock'n'roll. Silly, fun, sunny. And so is Eddie's guitar style. What could be a bit "too much" for those who are not crazy about Eighties hard rock, is actually quite enjoyable if you're listening to Eddie's playing – a true innovator.
3) Jack White: Detroit Pop Art
Pop Art is one of the defining styles of American art from the past 100 years. It's as American as apple pie. And Jack White is pure Pop Art, when you think about it: he's all about bright primal colors, about style, and about making many people wonder what is real and what is fake, who is the true Jack White, why is he singing like Blind Willie McTell, and whether is it real blues or just a commercial copy? These questions of originality vs. imitation, commercialism vs. authenticity, are pretty much the same questions people asked when confronted with the work of Pop Art names such as Warhol.
He's got the same unstoppable lust for creating stuff and churning out his products that drove people as different as Henry Ford or Andy Warhol. The quality of his work speaks for itself – he's a true post-modern blues player, deeply influenced my traditional American music – but with a shameless knack for turning it all into business, too! Could Jack White have come from anywhere but America?
2) Stevie Ray Vaughan: Texas Flood
The great guitar duel that never happened – SRV versus Hendrix. Who was the best? Many, many people swear that Stevie was every bit as good as Hendrix, if not better. SRV was 100% the son of Texas, deeply influenced by his roots, as authentic and as Texan as it gets – and still a hugely influential player. Listen to SRV and you'll have a taste of Texas with every note.
1) Jimi Hendrix: a melting pot, like America itself
Sure, Jimi was born and grew up in the United States, but could he be considered a truly "American" player, since his band The Jimi Hendrix Experience was formed in London, with two English musicians? Well… of course!
Jimi more than paid his dues on the road all over America, playing with people such as Little Richard, King Curtis and The Isley Brothers, and it was his rich musical influences that he took to England in 1966 – he certainly turned a few things upside down and kicked things up a few notches, but deep down, Jimi was an authentic blues man, full of soul, groove and a down-to-earth sincerity you would be hard-pressed to find in England at the time. Musically, and even racially (with his Cherokee heritage) Jimi was a true representation of that big melting pot which made America what it is.
No wonder that his legendary performance at Woodstock, playing the Star Spangled Banner, summed up America at the time better than most songs. And yes – he's still the best!
Did we forget anyone? Post your Top 10 in the comments below and let us know!