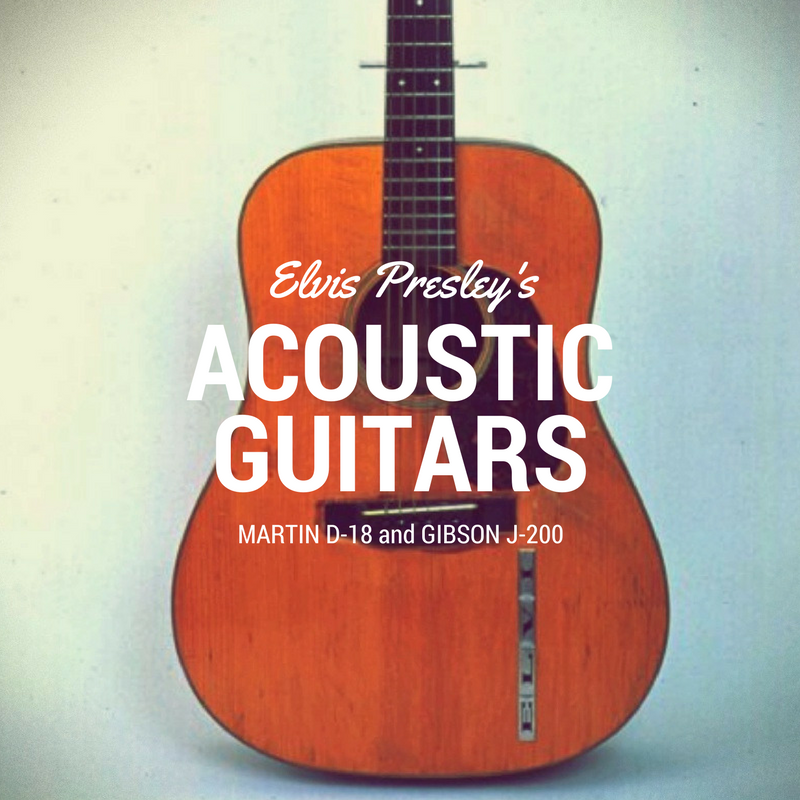 It's not all about electric guitars! Guest blogger Sally Writes takes a look at two legendary acoustic guitars that helped Elvis Presley to put his mark as "The King Of Rock'n'Roll".
'Jailhouse Rock', 'Love Me Tender', and 'Can't Help Falling In Love With You' bring only one name to mind – Elvis Presley. Even though the 50s and 60s icon was not the greatest of the guitarists of his time, the instrument played a significant role during his performances.
According to the History Channel's sources, Elvis – the King of Rock N' Roll – was only eleven years old when he got his very first instrument on January 8, 1946 and began to practice guitar in a space at home. Throughout the years the King accumulated over seventeen guitars including the Gibson J-200 from 1956, and the famous Martin D-18 from 1942. Here we'll tell you a bit about each of these legendary instruments.
Elvis Presley's Martin D-18
Historical notes indicate that Elvis' Martin D-18 is a handcrafted masterpiece that was created in the year of 1942. The instrument was designed by Martin guitar factory in Pennsylvania on January 15. Martin produced about 326 style D-18 guitars that year alone, however, that was considered a low number due to restrictions.
Elvis' Martin D-18 features:
40 1/2″ total length
20″ body length
15 5/8″ body width and a 4 7/8″ body depth
Mahogany neck
20 fret Rosewood fingerboard with a 25.4″ scale length
solid Spruce top
Mahogany back and sides
Rosewood bridge
Black Boltaron® endpiece
Black/White binding
Elvis' Martin D-18 was said to be installed with Kluson sealed case tuners, which wasn't an uncommon occurrence for guitarists in the 50s. The King's Martin D-18 was given to the Country Music Hall of Fame in the year of 1974 where it resided till 1991 after it was purchased at an auction by a British collector. Only two years later in 1993, the instrument made its way to Michael Malone, who paid $151,700 for it. Since 1998, the guitar has been displayed at the Rock and Roll Hall of Fame.
Elvis Presley's Gibson J-200
The Gibson J-200 was purportedly Elvis's all-time favorite acoustic guitar. Its sound was perfect for the new up-coming mix of blues and country music that was swiftly gaining mainstream popularity in the 1950s.
Elvis' Gibson J-200 features:
25 1/2″ scale length
17″ x 21″ x 4.5″ body with a solid Sitka Spruce top
Solid eastern curly maple back, sides and neck
Rosewood fretboard
Moustache bridge featuring Mother of Pearl Crown inlays on the fretboard
The Gibson J-200 was considered one of the best of its time, as it produced maximum volume and clarity. The unique sound of Elvis' Gibson J-200 can be heard in movies like 'Jailhouse Rock', 'King Creole' and 'G.I. Blues'.
Interestingly, the King of Rock N' Roll was drawn to the guitar out of admiration for his predecessors who dazzled the audience with their performances in hopes that he too would accomplish the same, which he certainly has.
– Article by Sally Writes