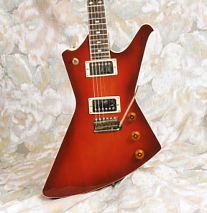 I count myself among the many of you who have discovered just how good guitars made by the Matsumoku factory in Matsumoto City, Japan, really are. Or were. They still exist as artifacts but have not been made more than two decades now. But one of the most bewildering aspects of tracking these fine electric guitars is following the myriad of brand names that came out of that plant. Most have been identified by enthusiasts. It's easy tell a Matsumoku guitar, but it's something else to figure out who the brand name belonged to. Probably the biggest outlier in this name maze is Quest.
I first encountered a Matsumoku guitar (I didn't know what it was at the time) back in the early 1990s. I was hanging out with Mac and Joe at the Axe Factory in Southwest Philadelphia (long gone) after work one evening. They were just about to close down when a car pulled up to the curb and out came two guitar cases. One was a '70s Gibson Les Paul and the boys started to drool over it. The other was the most spectacular flametop guitar I'd ever seen, an Electra Endorser (recently profiled in Vintage Guitar Magazine). Without taking their eyes off the Paul, they sold me the near-mint Endorser for three bills. I walked out like the Chesshire Cat. Later I found out that beauty was made by Matsumoku.
Matsumoku Motto (or the Matsumoku Industrial Co., Ltd.) was founded in 1951 to manufacture sewing machine cabinets. They were located in an area with a long tradition of musical instrument making, so when the demand for guitars heated up in the early 1960s, it wasn't so big a stretch to apply their woodworking talents to guitars. They began building guitars in around 1963.
Early Matsumoku guitars display that tentative awkwardness shared by most Japanese guitars of the time, but the workmanship is almost always a notch up compared to, say, Teisco, Kawai, or Zen-On. One of the early brands produced by Matsumoku was Cortez for Westheimer Music, the name that eventually gave us Cort guitars. By the middle '60s the factory was producing Arai and later Aria Diamond and Aria guitars. In around 1975 the luthier Nobuaki Hayashi managed guitar production and Arias became Aria Pro II. Meanwhile Matsumoku was producing guitars for St. Louis Music (SLM), including some, if not all, their late '60s Apollo line. When SLM changed its brand to Electra in 1970, the better models, at least, came from Matsumoku. Matsmoku also made the first Japanese Epiphones for Gibson beginning about this same time.
Another brand associated with Matsumoku was Univox, promoted heavily from 1968 on by the company known as Merson Musical Products, A Division of Unicord Incorporated, A Gulf+Western Systems Company. In 1975 the Merson part departed and the company became Unicord, Inc. In 1976 Unicord introduced the Westbury line, made by Matsumoku, which replaced Univox in '78. In 1979 and 1980 Matsumoku made the Washburn Wing and Stage Series guitars. In 1982 Matsumoku took over production of the D'Agostino Bench Mark series.
The Merson folks moved to Garden City Park on Long Island, New York, and became Musical Technologies, Inc. (MTI). This company would eventually bring Korg to the U.S. and still exists. In 1981 the Westone brand appeared in the U.S. This may have been a proprietary brand name owned by Matsumoku because, while it was appropriated by SLM as its brand name in 1984, other Westones continued to be sold outside the U.S. until the end. Anyhow, it appears that MTI began to sell Matsumoku-made Vantage guitars in 1982, at least.
Which finally brings us to Quest. With heavy metal riding high, a taste for weird-shaped guitars developed. In 1984 MTI introduced a new line of Matsumoku-made guitars called Quest by Vantage. These were a little more outré than the Westone/Vantage aesthetic, but why they felt they needed a new brand name remains a mystery. But included in the new line was the Quest Atak 6, kind of a take on the Ibanez Destroyer. In the brochure were the A-6 of laminated mahogany and the A-6TX with a bound ash body. This example has "Mark II" on the truss cover and is like the A-6TX but with a bound spruce top over a solid mahogany body. With an SN of C400578 this dates to March of 1894. Controls are volume and two tones, with the volume a push-pull coil tap.
The only brochure seen for Quests is from 1984. I own two and both are from mid-1984. If they lasted beyond that, it's unknown at this time. In 1987 Matsumoku was purchased by the Singer Sewing Machine Co. and guitars were not in their future. It's not clear if production ended immediately, or if they limped on until 1989 or even into 1990. At some point in the early 1990s the Vantage brand was transferred to the Samick company in Korea, mainly Gibson and Fender inspirations, sold by Music Industries Corporation of Floral Park, New York. These were certainly produced from 1995-97, and probably before and after.
Active sales of the Vantage brand have since ceased. Music Industries now rents instruments. I love the Quests, and many other Matsumoku guitars, but nothing is as sweet as that first kiss…er, Electra.