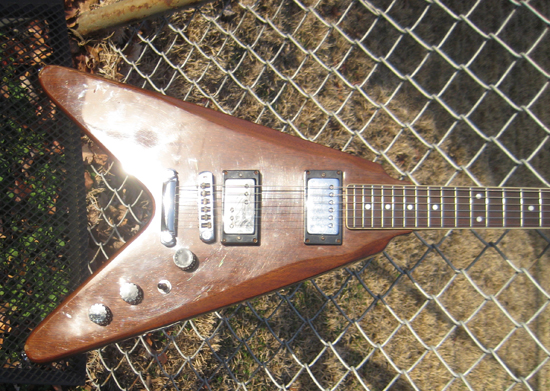 I have a friend with a cool little music store here in St. Louis. I pop in from time to time since he always has a great selection of vintage lap steels, as well as an ever-changing assortment of oddball pieces to check out. As I was on my way out the door after one of my most recent visits, I spotted an early 80s Harmony "Flying V," and immediately stopped in my tracks. The guitar had no price tag, and as I picked it up for a closer look, my friend told me to make him an offer. I was pretty interested in the guitar, so I quickly went through the complete assessment checklist I use when I'm considering buying a used piece. Following are the things I look for to determine whether a used guitar can be made playable, or if it's destined to spend the rest of its days as wall art.
Usually, if you're interested in a piece, the seller is nearby, carefully watching as you look it over…game on. The first thing you need to do is calm down. I have purchased more than one instrument that turned out to be a big old can of worms simply because of my initial eagerness to take it home. I have since learned to put that excitement on hold until I can really check it out, and know exactly what I'm dealing with.
Starting from the top and working my way down, I give the guitar a general inspection. I'm looking for cracks, dings, dents, signs of impact (has the guitar been dropped?), or any broken pieces. I will look especially closely at the headstock area for signs of a repaired break.
I'll then turn my attention to the tuning gears. The "V" I was looking at had one tuning gear that looked crooked at first glance. Upon further investigation, I found that the gear was not an exact match, and that one of the mounting screws was missing. These were cheap, dust covered, geared tuners, so I figured they would most likely be replaced anyway…not a deal breaker.
I also noticed that all of the pickup ring screws were rusted. Rusted screws can equal more shop time trying to get things apart, so be sure to consider the possibility of having to extract broken or stripped screws.
Once I determined that, aside from some rusty screws and a mismatched tuner, the "V" was in good shape, I started step two of the inspection…the nut. I have found that on guitars like this, the nut can be anything from rough to absurd. With this particular instrument, the latter was the case. This nut was an ugly yellow material, with huge string slots that were filed way too deep, and someone had cut up business cards to use as shim stock underneath. With most used guitar purchases, I'll typically fabricate a new bone nut anyway, so this wasn't a deterrent for me, and it even made a nice bargaining tool.
Next on the checklist come the neck and the frets. This is usually the make-or-break point for me when deciding whether or not to buy. I will start by sighting the neck, on both the bass and treble sides, for bow and possible twist in the neck. Too much bow or back bow may be correctable with a truss rod adjustment, or even a heat pressing if necessary, but twisted necks can be more complicated. When I sight the neck, I look straight down the edge where the frets end. I look at it as a continuous plane, all the way to the bridge. I can see back bow, forward bow, and I can spot unlevel frets. The "V" in question had a surprisingly straight neck, with fairly level frets…score!
After determining that the neck itself is in good working order, I'll look carefully at the neck joint, where the neck meets the body. If the guitar has a set neck, I check the area for cracks or previous repairs. The "V" had a bolt-on neck, which I prefer so that I can shim the neck if necessary to get a proper neck angle. I'll usually push back and forth a little on the neck to make sure there is no movement. Neck movement can mean loose mounting screws, which will cause tuning problems. Side note: if you haven't checked your neck mounting screws in a while, you should. Necks can work loose over time and cause problems.
At this point, I take a good look at the body, bridge, controls, and general set-up of the instrument. I'm looking for more rusted screws and parts that may cause problems later, when I do a set-up. For example, bridge saddles can seize up over time, no longer allowing for height or intonation adjustments. While checking the set-up, be sure to check the height of the bridge and individual saddles to determine if the guitar has simply been set up poorly, or if a bigger problem, such as a bad neck set, is present.
My final step in evaluating a used guitar includes plugging it in and playing every note on every fret, to see if I get any buzzing or rattling caused by unlevel frets. I want each note to be clear and in tune. I also check the pots and switches for noise or malfunction. I don't usually get too bent out of shape with bad electronics, because I will usually upgrade the switch, pots, and sometimes the pickups to a better quality part. This is an area where I usually find that the cheapest products have been used, and a little investment in better electronics can go a long way.
Once I've decided what needs to be fixed or replaced, I can begin the bargaining process. My checklist for the "V" revealed a bad tuner, rusty screws, some wonky electronics, and a nut that needed to be replaced. With a bit of haggling, the guitar was mine at a killer price.
I quickly made a new nut, replaced the pots, switch, and jack, and found a Fralin P-92 humbucker to put in the bridge position. After just a few hours of work, I had a killer new "Flying V." I even had it up and running in time for my wife to play at a show the next night. Looks like I may have to find another one of my own sometime soon.
Happy hunting!
– Dave Anderson