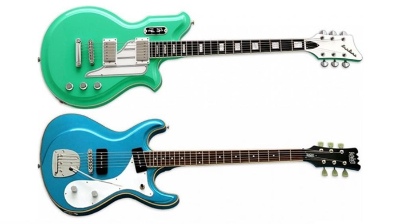 One of the best selling models from Eastwood Guitars is the Sidejack Baritone. More recently they have also introduced the Airline MAP Baritone. Why are they so popular? First, let's take a look at what a Baritone guitar is.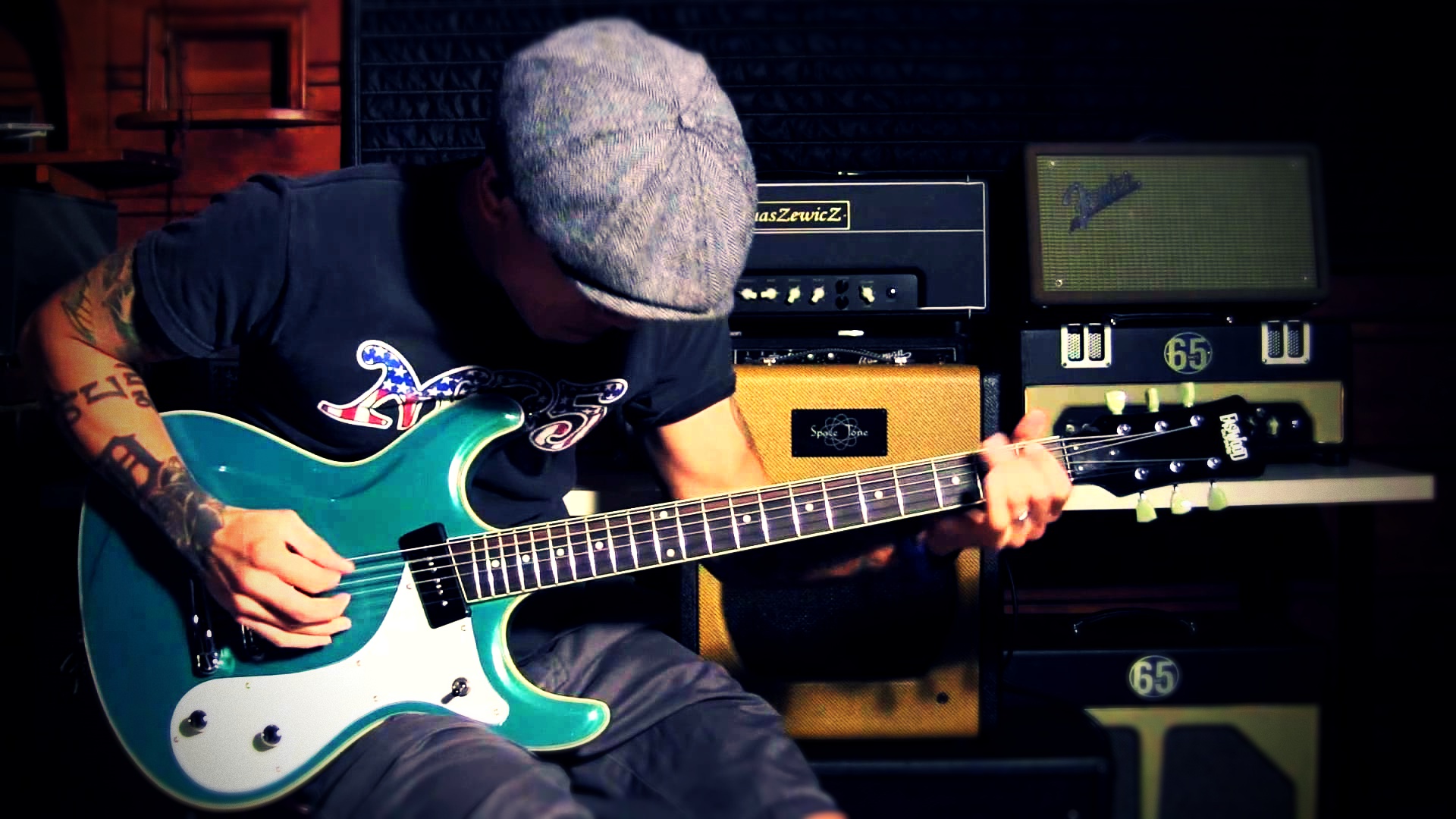 Simply put, they are exactly the same as any standard electric guitar but with a lower voice. A standard guitars tuning (from lowest string to highest) is E A D G B E. Baritone guitars are usually tuned a fifth lower (A D G C E A), or a fourth lower (B E A D F♯ B). Therefore, all the chord patterns you already know are exactly the same on a baritone, but simply produce a lower voice.
Why use a baritone when I can tune my standard guitar lower?
"So why not just take my trusty Fender and tune it lower?" you might ask. If you did, you'll find the strings to be too "floppy" and not enough tension to produce a useable sound. The solution? Make the neck longer and use heavier strings. More precisely, make the "scale length" longer and use heavier strings. What is the scale length?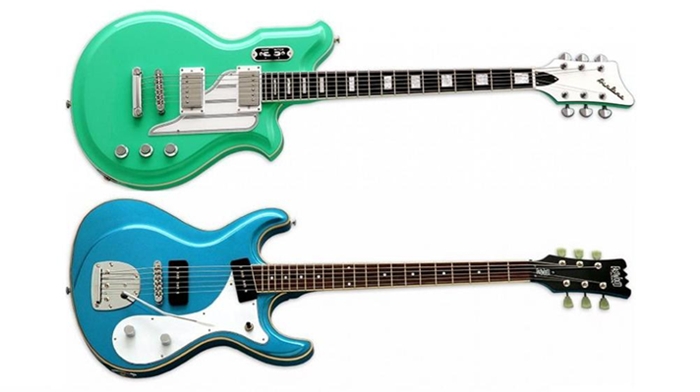 Airline Baritone Guitar & Eastwood Baritone Guitar
The scale length is the precise length of the suspended string, the length between the nut and the bridge. Generally speaking, most Gibson style guitars have a 24 ¾" scale and most Fender style guitars have a 25 1/2" scale. String sets of 10-46 gauge are typical for these guitars tuned E-E. On the other end, tuned a full octave below the standard guitar at E-E, a Fender Bass has a scale length of 34" and strings in the 45-100 range. Eastwood produces a number of "short scale" bass models, with a 30 ½" and 32" scale, also with the 45-100 string sets.
Most Baritone guitars fit in the middle and have a scale length ranging from 27" to 28". Eastwood's Sidejack Baritone has a 27" scale and uses D'addario Baritone Light strings, 13-62, tuned B-B.
Tension Chart

Diameter
Tension
Item #
Note
Inches
mm
lbs
kg
PL013
B
0.0130
0.3300
20.940
9.500
PL017
F#
0.0170
0.4300
20.100
9.120
NW026
D
0.0260
0.6604
25.020
11.350
NW036
A
0.0360
0.9144
25.920
11.760
NW046
E
0.0460
1.1684
23.020
10.440
NW062
B
0.0620
1.5748
23.780
10.780
Why is a baritone guitar useful and why should I buy one?
OK, with all that technical stuff out of the way, the next question, "why is a baritone useful and why should I buy one?" The real advantage is that ANY guitar player can pick one up and be an expert baritone player immediately as the tuning is identical to their standard guitar, just lower. So every chord pattern you play is identical on the baritone.
For example, when you play an open E chord on your guitar, you'll do exactly the same on your Eastwood baritone, but it will be an open B. Get it? So you can play any song or riff you already know, right out of the box, but you'll notice a darker, more haunting texture in your tone.
Jeff Senn Model One Baritone Demo
The Jeff Senn Model One Baritone is a new Eastwood Custom Shop model, and one of those guitars that really could tip you into falling in love with baritones! VIEW MODEL ONE BARITONE INFO
NEW: Classic 6 Baritone semi-acoustic
Truth be told, baritone guitars are still a little bit of a niche, though not as much as it used to be, and we've notice a steady increase in the number of users over the years. But still, you won't find many semi-acoustic models available out there, which makes this recent Eastwood Custom Shop very appealing: Imagine a George Harrison Country Gent-style guitar… but with longer scale for a slightly darker tone! Sounds amazing… at the moment, the Eastwood Customs Classic 6 Baritone is a crowdfunding project, and those interested need only leave a small deposit to guarantee theirs and make sure the guitar gets made.

A brief history of… Baritone guitars
Next, let's take a look at the history behind the baritone. Danelectro was the first to introduce the electric baritone guitar in the late 1950s where it soon appeared in a lot of 60's surf music as well as background music for many movie soundtracks, especially spaghetti westerns. These days you'll hear baritone in all types of music from folk to rock to heavy metal. The voice of the baritone is low enough to stand out in the mix next to a standard guitar and is high enough to cut through well above the bass.
Brian Wilson used baritones often in his arrangements with the Beach Boys. Glen Campbell used them in great songs like Wichita Lineman. Ian Mackaye from Minor Threat uses a Sidejack baritone with his band The Evens. Jazz guitarist Pat Metheny uses baritones in his arsenal of guitars. Pat Smear of the Foo Fighters also uses a Sidejack Baritone. Colin Newman of Wire (who came up with the idea) uses the Airline MAP Baritone. The great Richard Hawley (can you tell I'm a big fan?) uses a Sidejack Baritone on his recordings, many of which were inspired by one of the earliest adopters of the baritone, the fabulous Duane Eddy.
If you have a studio, you really NEED a baritone electric. You won't have to invest any time in learning to play it and you will quickly discover many useful applications. Eastwood produces a few variations and price points to suit every need. The Sidejack Standard and Deluxe baritones are under $500, great bang for the buck. The new Airline MAP and MAP DLX are killer baritones and come in under $900.

OK… How does a baritone guitar sound?
Here is a great example, where RJ Ronquillo rearranges Wrecking Ball by Miley Cyrus using the new Airline MAP DLX Baritone. The result is a deep, dark, beautifully haunting and more tearful composition than the original – "stripped" down to just a Baritone, without the need for gratuitous nudity.
Check out RJ here again, riffing along with his Sidejack Baritone giving "Hey Joe" a darker bluesy vibe, then showing the versatility of a baritone in surf and western styles.
Here is Lance Keltner taking a Sidejack Baritone for a spin with his band. Note the clarity when played along with a Stormbird Bass.
The baritone is also very useful when paired with a wide variety of effects:
..and with a little dirt too to give you that garage rock sound.
..and you can have hours of fun driving the baritone through GuitarRig 4:
So there you have it. Starting at just $429, it's time to jump on the baritone bandwagon! Take home one of Eastwood's family of baritone guitars and add some punch to your playing and recording endeavors. You'll be glad you did.
update Oct 5/2014: here is a link to a recent Premier Guitar review of the Airline MAP Baritone:
http://www.premierguitar.com/articles/20377-eastwood-guitars-airline-map-baritone-review
Also just announced the MAP Baritone received the 2014 "Premier Gear Award"