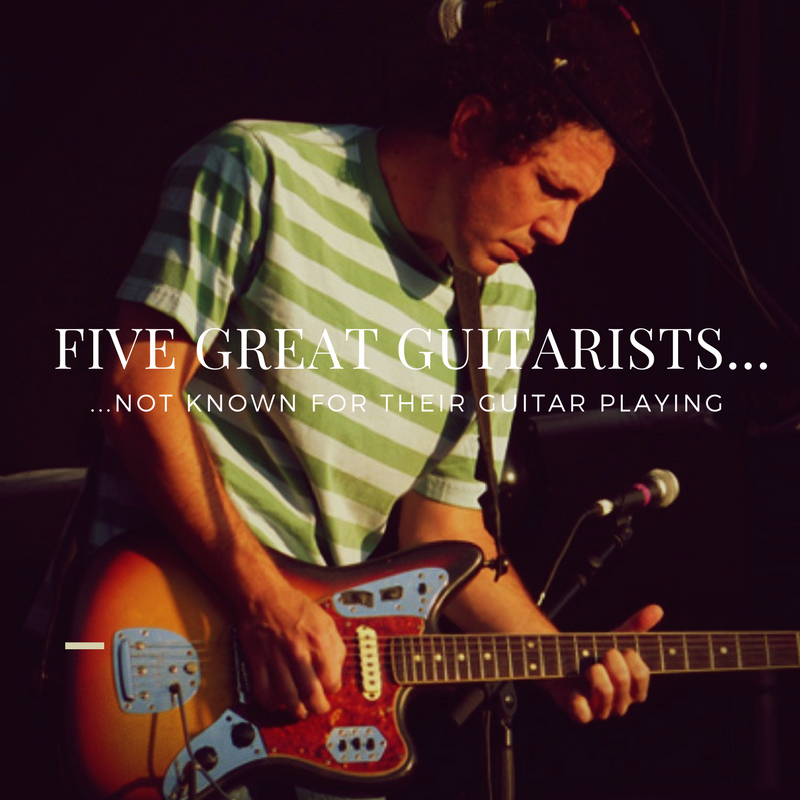 Sometimes, it's easier to get recognition as a guitarist if you're just that – a sh*t hot lead guitarist in a band. But sometimes, being respected mostly as the main singer/songwriter in a band can prevent the talent of really good guitarists from being admired. Here's the Top 5 picks by guest blogger Rob Roberge.
Everyone listed here could easily be seen as a great guitar player if they were in somebody else's band. In fact, some of the examples I chose to link to here ARE songs where the guitar player is doing a cover version, or a song written or sung by someone else in their band. While some are the artist's own creations, I picked some covers here for a couple reasons:
A lot of these guitarists seemed to cut loose often on songs they didn't write. But since this is a column about their guitar playing, I wasn't that concerned with whether or not it was a song they wrote.
So, as a note: Some of these songs are, in fact, written by the artist in question – or at least by their own band – but I wasn't bound by this as a requirement. Also, this is not at all meant to be anything close to a comprehensive list. So, please, feel free to add some of your own underrated guitar players in the comments section. Thanks!
On to the players, in no particular order:
Prince: "While My Guitar Gently Weeps" (live)
A songwriter who penned a ton of classics over the years, Price is known justifiably as one of the great songwriters of his generation. And his own catalog has plenty of examples of not only his great lead playing, but also his often sophisticated and subtle rhythm playing. But it was hard to gain a full appreciate of Price as a guitarist unless you got to see him live, where he tore into several memorable solos a show.
Here he is during the Rock and Roll Hall of Fame induction performance for George Harrison. While I don't think this solo on "While My Guitar Gently Weeps" is necessarily better than Clapton's incredible solo (one of the best of his storied career) on the original version (I'm not a big believer in saying what's better when both are brilliant), it definitely holds its own in a very original and exciting way.
Bruce Springsteen: "Because the Night" (from an appearance on Jimmy Fallon) and/or his Grammy wining duet with Warren Zevon, "Disorder in the House" (off Zevon's final album The Wind).
Here's a guy who started his career as a young hotshot lead guitar player on the Jersey Shore scene. Eventually, he would become known more for his songwriting (justifiably), but these performances show his aggressive, high-energy style. Also, killer tone out of his Tele (and out of his main guitar—a modified vintage Esquire with the Tele neck pickup added that often gets mistaken for a vintage Tele) and Bassman. Check out the first solo on the Zevon tune at 1:27. It burns, and it may not even be his best solo on the song.
Jeff Tweedy (Wilco): "Spiders (Kidsmoke)" off A Ghost is Born.
Wilco has lived a charmed life as far as their main lead guitar players go. Both Nels Cline and Jay Bennett are/were brilliant players in different ways. But for one record, Jeff Tweedy was the lead (and, on tour, only) guitar player. And while the album has quite a few high water marks, guitar-wise ("At Least That's What You Said", which explodes from a stunning ballad to a Dinosaur jr./Neil Young and Crazy Horse blowout), it's on this ten plus minute track that Tweedy really shines.
With both the fills in the verses and over several solos, Tweedy manages to play an angular, unexpected, and unique guitar. The tone is fabulous and the solos manage to cover several minutes of the long track without a single cliché. This song announced Tweedy as more than just a supremely gifted singer/songwriter, but also a guitar player who wasn't like anyone else. Check this one at, especially what starts around the five-minute mark.
Ira Kaplan (Yo La Tengo): "Today is the Day" (live)
As with anyone on this list, a person could pick any number of songs that showcase the player's greatness. There are several songs in the YLT catalog that show off Kaplan's melodic side better than this—but it's his ability with catchy melody and dissonance where he often shines. Check out the frenzied, aggressive, and altogether cliché-free solo that starts around the 3:15 mark. You'd be hard pressed to find a player more capable of hitting that blissful point where melody and unhinged noise come together. So much beauty coming from so much Jazzmaster abuse.
Bob Mould (Sugar / Husker Du): "Shoot Out the Lights" (live)
Mould is, understandably, known for his chainsaw rhythm guitar and outstanding songwriting in the seminal Husker Du, and for his more textured, cleaner work in Sugar and as a solo artist. He's been writing great music for over thirty years now, and there are any number of his own tunes (again) I could use here as examples. Instead, I'm going with his live cover of the Richard Thompson classic, "Shoot Out the Lights." The reason? For one, anyone who can hold their own while covering Richard Thompson is almost by definition a great guitar player.
Thompson is one of a kind, and it takes some guts to even try this, let alone succeed as well as Mould does here. Jagged, dramatic, and unexpected—this is one hell of a performance.
By Rob Roberge