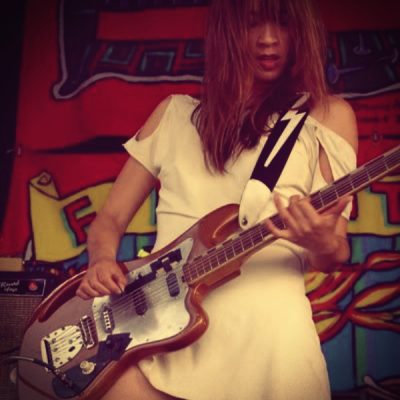 Offset Guitars have been, for a long time, a favourite amongst alternative rock and indie rock players. Let's have a look at a forgotten classic – the Teisco TG-64, now being reissued by Eastwood.
Don't get us wrong – we love a good Jazzmaster, Jaguar or Mustang. Fender was and still is the big daddy of the offset guitars. But if familiarity doesn't always have to bring contempt, on the other hand many of us prefer guitars with that little spark of mystery, which add to an unique touch when you're on stage, or simply helps making it more interesting to play. That's why a few lucky guitarists can't help but loving their rare, 1960's Teisco TG-64. Let's be honest, it has a certain mojo lacking in modern-day Jazzmasters!
The Forgotten Offset Classic?
While its shape is familar, it's all about those other details: three single coil pickups stripy scratchplate, push buttons and that cut-out handle on the body – what's it all about? One of those features no one really needs, but which in fact looks pretty cool. It was the Sixties, after all, and who knows what the designers were smoking, then!
The thing about Teisco guitars, is that they were unashamedly cheap knock offs of bigger brands such as Fender – but with enough personality to stand out on their own. They were never meant to be GREAT guitars, but put them through a valve amp and a good fuzz pedal, and it could be the coolest thing ever. Originally unpopular offset models such as the Jazzmaster and Jaguar were affordable, and for this reason rediscovered in the Seventies by Punk and New Wave acts, but as soon as they became a staple in 90s alt-rock, thanks to Nirvana, Sonic Youth and others, they became prized commodities – and, somewhere along the way, lost just a little bit of their "cool" factor (for all it's worth!).
Owning a Teisco TG-64 is a bit like owning a Jazzmaster back in 1976 – because it's still an odd and rather cool choice, not seen too often. Some of the people who've used one recently include Blonde Redhead and Conor Oberst. But this model is still not the easiest to find! This is perhaps the coolest of all non-Fender offset guitars, and certainly a "forgotten classic"!
Eastwood Custom TG-64 Monkey Grip
It's great news that Eastwood Custom are planning to reissue the Teisco TG-64. The plan is to make it even better than the original, but still quite affordable. While in the past Teisco were cool but cheap guitars, the new ones are of much better quality. If you're looking for a cool alternative to a Fender Jaguar or Jazzmaster that really stands out, maybe the new Eastwood Custom TG-64 will do the trick for you.
At the moment guitarists have to pledge a small amount to guarantee theirs… if you're interested, hurry up, because opportunity ends TODAY (17th November)
VIEW EASTWOOD TG-64 PAGE FOR INFO
Eastwood Custom TB-64 Monkey Grip
The Teisco TB-64 looks very closely to the TG-64, but with a few differences besides the longer scale: a more "Fender-y" headstock, different neck joint and a vibrato arm closer to the edge of the body. Yes, it might've been inspired – in principle – on the Fender Bass VI but, frankly, has quite a marked difference… and, dare we say, looks much better?
Eastwood launched a custom shop project to reissue the TB-64, ending on April 20, 2017. They've successfully crowdfunded the TG-64 and it looks likely the TB-64 will also get made… but the best way to make sure this happens, and to guarantee yours, is of course to help crowdfunding and leave your pledge, too!
VIEW EASTWOOD TB-64 PAGE FOR INFO
Watch: Teisco TG-64 Demo