Six strings, wood and metal. That's what guitars are made of, at least the boring ones. However, there will always be something else, something different than every other guitar you have ever seen. New shapes. Mixed elements. Screaming colours. Or, simply MADNESS. Ladies and gentlemen, freak out all you want because this is the top 10 of the weirdest vintage guitars.
                                                                                           10. Rickenbacker 620

Chubby, but splendid. The 620 features the unusual 'cresting wave' styled body, as well as an oddly shaped pick-guard. Designed in the 50's, it is less popular than the 300 series although much more bold and unconventional.
                                                                                            9. Ampeg Dan Armstrong


Exactly how it seems, the Dan Armstrong has a 'see through' design. Its body is made of clear plastic which may look a little gimmicky on the 2006 vintage edition, but was already played by big names as Keith Richards and Dave Grohl. In other words, the Dan Armstrong is "clearly" weird.
             8. Gibson Explorer 120

Would you dare to play this wild pointy creature? The Explorer was initially marketed as Gibson Futura until its later success. Unsuccessfully released in 1958, it has a classic space-age perfect for hard rock and heavy metal.
 7. Gibson Flying V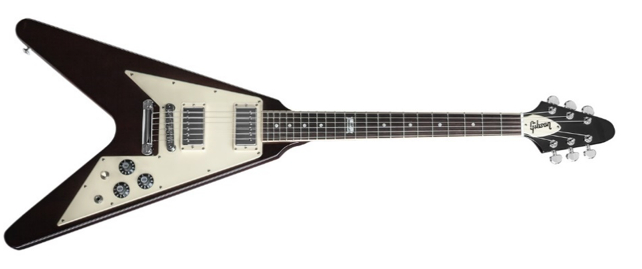 This one is a monument. From Jimi Hendrix to Lenny Kravitz, everybody loved its V shaped Maple body. The Flying V was futuristic, light and crazy enough to overcome its rough launch in 1958. Nowadays, it is one of the most iconic models ever made. How about that?
6. Kawai MS-700 MoonSault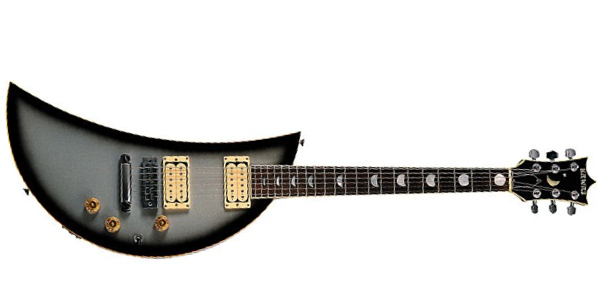 Houston, we have landed on a weirdo. The MoonSault was released during Japan's guitar making boom in the early 70s. Its moon styled body is really one of the most unique guitar shapes ever created! And take a look at the fret markers, they follow the entire lunar cycle with quite some detail. Kawai just made the coolest guitar for a night out!
5. Vox Phantom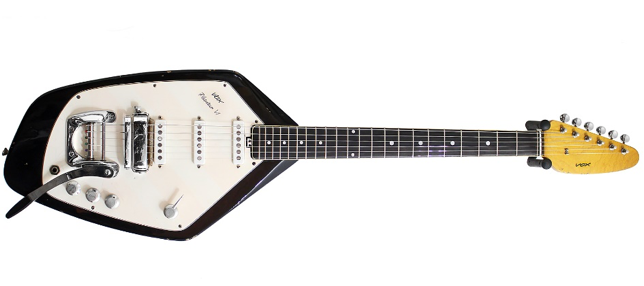 Love won't ever tear us apart. The Phantom is not just a guitar, it is more of a badass violin: light, small and weirdly pentagonal. In fact, its shape became an icon of the British Invasion since the release in 1962. Ian Curtis, huge psychedelic rock legend, owned about 3 Phantoms.
4. La Baye 2×4

The name says it all, 2×4=6 strings and a rectangular shaped body. As simple as that. It may look like a joke, but this one is quite a serious vintage guitar. Devo, probably the most futuristic and quirky band ever, worshiped the 2×4.
3. Ibanez Iceman PS1CM

Madness made in Japan. The Iceman was built with an appealing original design that mixes both classic and modern styles. It was released internationally in 1978 by Ibanez, but its Japanese version belongs to Greco. Paul Stanley, from KISS, is a fan and even signed this broken glass vintage edition. It is as weird as awesome!
2. Gibson EDS-1275 Double-neck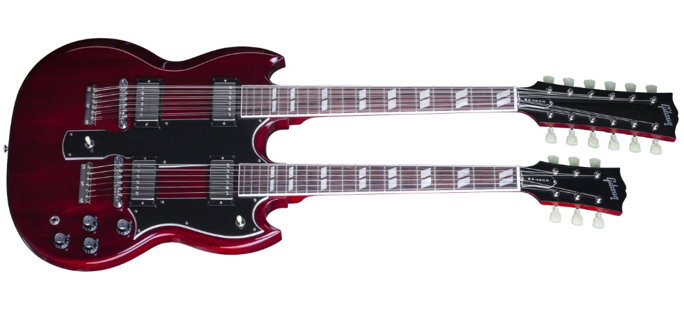 Meet the Frankenstein of all this freak show. The Double-neck integrates 2 different guitars in a single one resembling Gibson's SG model. Introduced in 1958, it is big, heavy and noisy enough to be a scary scary scary monster. After all, you get 6 strings plus 12 to rock the house down (Jimmy Page's style).
1. Airline 59 2P

At last, the award for most weird vintage guitar goes to… Airline's 59!!!
The future is with this one, and it is beautiful. Every part of the 59, from the styled body to the controls or the colours, look as if it was stolen from a Stanley Kubrick's movie. The Airline 59 model is almost a rock spaceship, a quality futuristic statement embraced by great artists as Jack White or PJ Harvey. And its sound? It is absolutely MIND-BLOWING!
Do you agree with our top 10? What would your weird guitar picks be?
Rock on, weirdos |..|