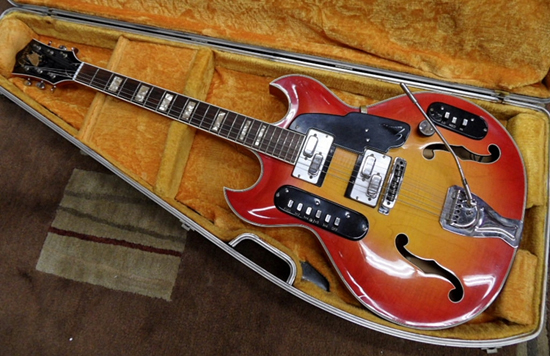 The guitar brand name "Goya" existed from the mid 1950's to 1996. Nylon and steel string acoustic and acoustic/electric guitars, hollow body electric guitars, solidbody electric guitars and basses, thinline electric archtops guitars, banjos, mandolins and amplifiers. Sparkle plastic covered Model 80 (ESP24 Standard) and Model 90 (EDP46) hollowbody electric "Les Pauls" (with replaceable pickup assemblies) – made by Hagstrom – introduced mid 1959. These are relatively rare.
Goya was purchased by Avnet in 1966, and continued to import instruments such as the Rangemaster in 1967. By the late 1960's, electric solidbody guitars and basses were then being built in Italy. The vibrato bar, however, was provided by another Goya supplier, the Hagstrom company of Sweden. It has also been suggested that Italian guitar maker Galanti made the Goya "Panther" models. The Goya Panther and the Galanti guitars look nearly identical.
This cherryburst Rangemaster Model 109R Goya guitar was made by the "Polverini Brothers" of Italy (not by EKO as previously thought) in the late 1960's. The multi control panels that were common with Italian instruments from that era, include a master volume next to three tone options, low, medium and high. The upper controls are for pickup selection, as the pickups are split into 3+3 x 2. So the controls are: 1+2, 1+4, 2+3, 3+4, off. Pretty cool!
This model is shown on page 12 and 13 of the 1967 Goya Guitar Catalog in a blonde finish.