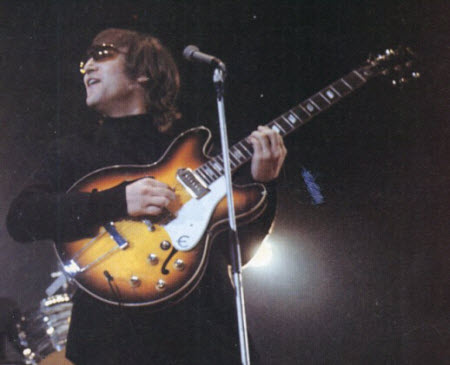 One of the most legendary musicians of all time was also quite the great guitar player. Many don't associate John Lennon with being a great guitarist, but in actuality he was. Sure in the early Beatles' days, he played standard rhythm guitar, but in later years he was soloing along side George Harrison.
So what guitars did John use as a Beatle? Lets take a closer look…
1958 Rickenbacker 325 Capri
It was in 1960 that John acquired the 325 capri, which accompanied him in the Hamburg days. This guitar can famously be seen in the Beatles' first Ed Sullivan Show performance. Rumor has it that this guitar was a natural color and was painted black in 1962. It is believed that he stopped using it sometime in 1964. The 325 Capri has been left in the hand of John's son, Sean Lennon.
1962 Gibson J-160E
One of John's most famous acoustic guitars is easy to recognize with the sunburst finish and knobs on the soundboard to control the built-in pickup. The Gibson can be heard on the song "Love Me Do" and was used extensively on the Please Please Me sessions. Lennon picked up another J-160E, which he took on tour in 1964 and 1965.
1963 Rickenbacker 325
This Rickenbacker came in to replace John's "Hamburg" Capri, which had taken quite the beating. It was used on the album A Hard Day's Night. As well, it was used on the second performance the Beatles did on the Ed Sullivan Show. Lennon also received a 12-string version of this guitar.
1961 Fender Stratocaster
In 1964, John Lennon and George Harrison made a request for some strats, and each received one. In a cool light blue color with a rosewood fretboard, the stratocasters were used on the song "Nowhere Man". George Harrison later gave his a psychedelic paint job for the All You Need is Love satellite broadcast.
1965 Epiphone E230TD Casino
This hollow body guitar is quite famous as John used it for the impromptu rooftop concert. He also toured with it extensively in 1966 and it can be seen at the Beatles' Shea Stadium performance. Sometime in 1968, John has his Casino sanded down to its natural finish, which can be seen in the rooftop concert.
Other guitars John had during the Beatles
Ramirez A-1 classical guitar
Framus 12-string acoustic guitar
1963 Gretsch 6120, Guild Starfire XII
1966 Vox Kensington
1965 Martin D-28 acoustic
– Posted by Raj who writes a blog on Guitar Tone
Check out these cool 'best of' articles from GuitarToneTalk: