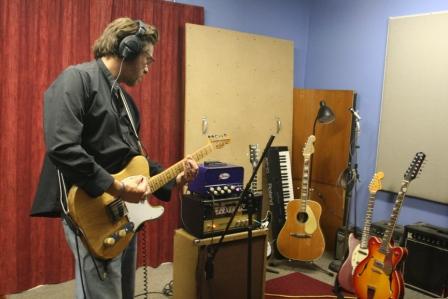 Since 2005, Rob Roberge has been entertaining the My Rare Guitars subscribers with his insightful and often hilarious stories. Ranging from The Close Relationship Between Booze & Lost Gear to his curious observations from our annual trip to the NAMM Show, and a bunch of interesting articles about oddball vintage amps.
But, is has been some time since we've had the pleasure of a Roberge contributions. Why? Well he's been busy writing his latest novel, The Cost of Living, that's why! Here's the note from the publisher:
To the shock of lovers and rivals, indie guitarist Bud Barrett is finally—if tenuously—married, clean, and sober. Now he faces the challenge of staying that way. To avoid repeating the past, Bud needs to confront the ghosts that dwell there. After decades of seeking redemption in the arms of "pervy Florence Nightingales," Bud finds himself still haunted by his mothers abandonment, his own array of crimes, and a murder he witnessed as a child. As he revisits his life of grief and reckless excess, all paths lead to his long estranged father, a man with his own turbulent history and the only one who can connect Buds fragments, unlocking the answers that just might save him.
Rob's new novel is a seat-belt-buckled crazy ride through the world of rock and roll, substance abuse and the nutty people you'd meet along the way . It did not yield as many laugh-out-loud moments as I've become accustomed to with his work, but the subject matter is a lot heavier than usual. Most of the day I had trouble putting the book down long enough to grab a bite to eat – at other times I wanted to put it down for fear of finding out what was to happen next. Rob has a knack of turning the most dark, frightening, pathetic human circumstances into a funny yet heart breaking thrill ride. His narrative about the horrific lifestyle of the drug addicted central character – Bud Barrett – is troubling. Yet it is written with such brutal accuracy that you feel like you are in the car with him, in a band with him, in and out of the hospital with him, being rejected with him and being loved with him. But most of the time you'll feel deeply in trouble with him. Not just in trouble, but troubled. A front row seat to trouble. You'll feel like the guy holding the boom mic just off camera for the entire novel, so close that you're afraid, but thankful it's Bud Barrett, not you.
So if you're like me and want to read the book before the movie comes out, dig up fifteen bucks, click here, grab your imaginary boom mic and settle in for a wild ride. You'll be glad you did.