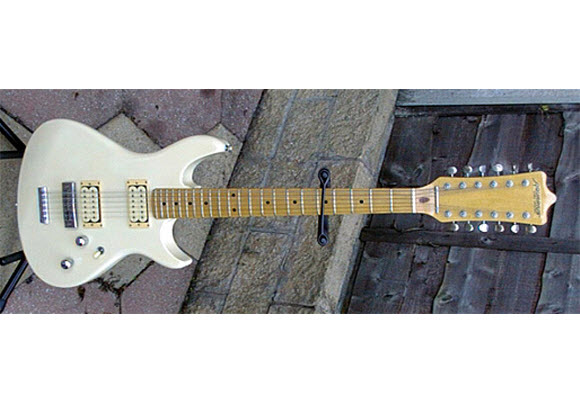 There is very little information available on this model, which is surprising given its excellent quality of construction and sound range. I understand that they were made around the late 1970 or early 1980's in Japan by The Kawai company. This 12-string solid seems rare, and is possibly one of only a handful in existence.
The headstock is large and flat, into which are set 12 individual covered tuners which bear a striking resemblance to Kluson tuners. They are, however, uninscribed. The nut looks to be made from plastic, and is perfectly cut to accommodate light gauge strings. A one piece neck and fingerboard – which appears to be made from Maple – is in as brand new condition and beautifully crafted with no evident fret wear despite its age. There is a dark wood 'skunk stripe' on the back of the neck into which is inset a truss rod. Surprisingly, the truss rod cannot be accessed for adjustment without removing the neck, which suggests a short-coming in planning.
The solid body is of medium weight and of a shape that will be familiar to all electric guitar enthusiasts. There are two 'humbucking'-type pickups, and a three way toggle selector switch mounted close to the volume control knob. A coil tap enables marked changes to the overall tone and to an extent the volume. The sound range is wide, going from sharp cutting treble to a very warm and bassy neck pick up. The hardware appears to be stainless steel, as there is no evidence of corrosion. The tail piece is fixed and sits out of the way behind a sophisticated bridge with screws for adjustment in front and behind, each string passing over an independent saddle. The cream white colour makes it stunning in appearance and it is a joy to play.