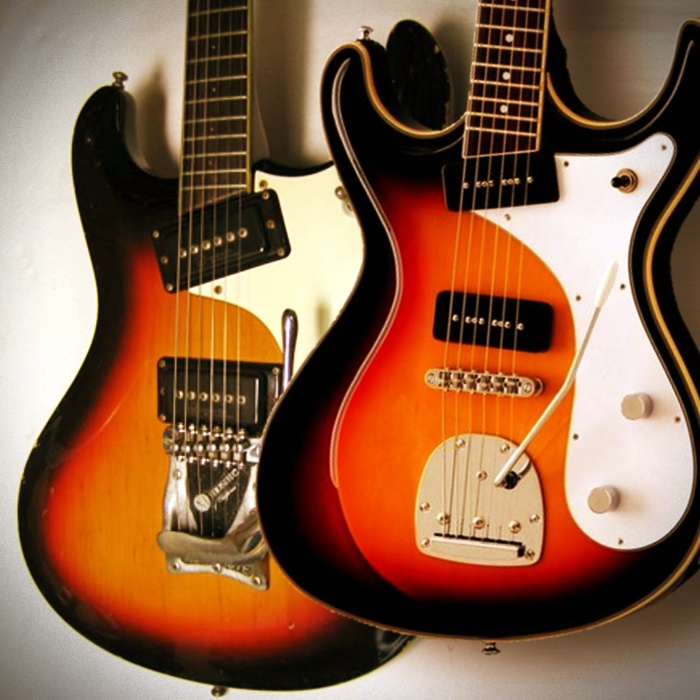 Can a brand new guitar be better than a legendary, vintage one? Mosrite vs. Sidejack: Which One Is Better? This is a tougher question that you might've thought…
Before we start a fight, let's be clear: we LOVE Mosrite here at My Rare Guitars, as Mike himself made clear in previous blogs. They sound amazing, look beautiful, and are some of the most iconic and unique guitars ever made. From a collector's point of view, it's a no-brainer: if you can find and afford an original, vintage Mosrite, you should just go for it!
But we all live in the real world, and from a musician point of view, things get a little bit more complicated… and vintage may not be convenient, nor necessarily mean better.
Over the years, there's been many variations of the Mosrite models: from the Univox guitars in the 70's, to 80's and 90's replicas branded Mosrite, besides other brands making their own versions of the classic design, to varying degrees of success (Hallmark guitars, Danelectro and others).
The thirst for Mosrite guitars has been there for many years – not just because of the Ventures surf-music connection, but also due to it's connection to seminal rock bands such as The Stooges (Dave Alexander played a Mosrite bass), MC5 (Fred "Sonic" Smith) and, especially, the Ramones (Mosrite was *the* Johnny Ramone guitar).
The first problem regarding Mosrite is precisely that – most musicians inspired by those artists, who want to actually rock out onstage, wouldn't (shouldn't?) really choose a vintage Mosrite to play. After all, Mosrites are too rare, too expensive for actual rock gigs, now! So no wonder so many copies have proliferated.
And then, there's the other, more pressing question: were the original Mosrites actually that good?
Some well-known Mosrite issues
While there's no question about the build quality of the original Mosrite guitars, and even less doubts about their amazing sound, there WERE some issues which have bothered many players over the years.
Basically, the Mosrite neck were quite idiosyncratic and a big barrier for many, many players who'd otherwise love the guitar: tiny frets, and very thin necks very narrow at the nut – which quite a few players could enjoy but not all – especially if playing lead.
The frets, though, were definitely a big issue. We've heard of people who bought original Mosrites and decided to actually re-fret them! Just imagine – you buy a rare, expensive vintage guitar, and feel the urge to actually change its specs – and, by making it not all-original anymore, devaluating the guitar.
Yep, that's how bad some people didn't like those frets.
It's important to note this because, lo and behold, not even The Ventures were too keen on them! Despite their association with Mosrite (after all, mk I model was called "The Ventures") they actually preferred to use Fender guitars in the studio, and used Mosrites live just because of their contracts.
According to an old blog post we found:
"…remember, it was the Ventures that really started using stringbending….and try to bend a string on an orignal model…there is no fret to use…It's all but filed off… They had specifically asked that the Mosrite necks have the same frets and feel as their favorite Jazzmaster, Stratocaster and PBass."
Another interesting thing about Mosrites: they didn't have a nut!
Instead, Mosrite guitars have a zero fret that acts as a nut, and behind it, they feature a metallic string slide device to keep the strings in place. Looks weird but, apparently, is a very clever design that helps with the intonation.
Another interesting detail is that Mosrites used a roller bridge, not too dissimilar to a tune-o-matic, but the saddles were actually little wheels that would allow for smooth tuning and smooth tremolo action. However, some players say that that some of them had issues where the bottom of the saddle didn't conform to the bridge plate, and would cause buzzing – some players would then put a small and thin piece of felt under the saddle!
All told – everything does seem to show that, for such an expensive piece of rock history, the Mosrites (or some of them) did have playability issues most people shelling out thousands of bucks, today, would rather avoid…
Are Eastwood Sidejacks Better Than Mosrite?
Now… here's the million dollar question: are the new Eastwood Sidejack guitars actually better than the legendary Mosrite guitars? As the recent Re-Inventing The Past: From Mosrite to Sidejack blog says, there's little doubt that the Sidejacks are, today, more popular than the original Mosrites ever were.
Over the past few years, other brands have also jumped on the Mosrite bandwagon,such as Hallmark and Danelectro, who also makes popular Mosrite-style guitars – the Danelectro 64 and Danelectro 66 models, which also look great, though yet again featuring their own take on the famous Mosrite look.
For instance, both the Danelectro 64 and Danelectro 66 feature lipstick-style bridge humbuckers, which can put some players off, as it deviates quite a bit from the original Mosrite look (though it could, of course, appeal to other players who want that kind of tone). They have a less Mosrite-ish headstock, but, on the other hand, have zero fret and Mosrite trem, which some hardcore Mosrite fans might appreciate.
Mosrite, Danelectro or Eastwood Sidejack?
It's the same old story – to each their own. Even though Mosrites are legendary, and sound great, not everyone will actually enjoy playing one. Meanwhile, some players will prefer the Mosrite features of the Danos, while others will prefer the different Mosrite features of the Sidejacks, especially of the new Sidejack Pro DLX.
Right now, there's no question that the Eastwood Sidejacks are the leading models keeping the Mosrite flame alive: they're not "reissues" or replicas of the Mosrite, but modern, updated tributes to the original.
They definitely feel more playable, and feature a more familar jazzmaster-style tremolo, besides adjustable bridge. So, while not 100% like an original Mosrite, the Sidejacks are the true heirs, keeping the Mosrite cult alive – and doing it the RIGHT way: by being used by lots of bands who really love to rock out!
While not quite as well-known as the Jazzmaster (yet?), the Sidejack is equally suitable for surf music, punk or indie rock. For fans of the P-90 sound, simply an amazing choice.
Now… better than a Mosrite? Only YOU can tell, really, if you ever have the chance to compare both. Everyone will have their own opinions… but I know which one I'd rather take to my next gig!