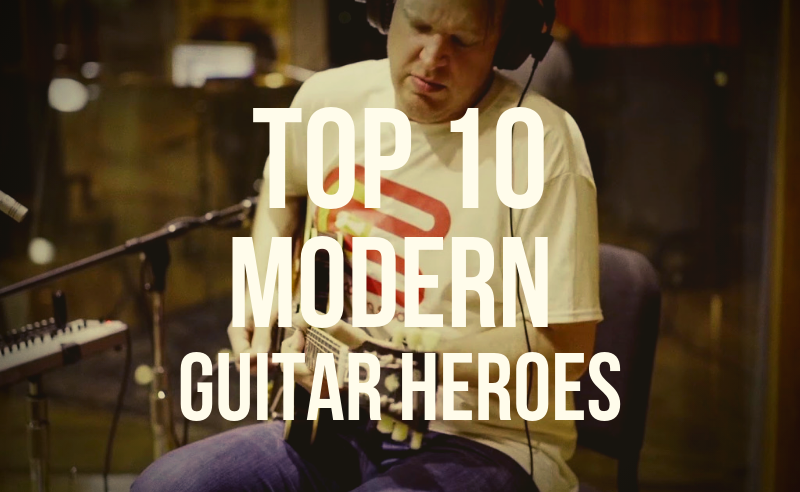 When talking about "Guitar Hero", most of us hark back to the 60's heydays and names such as Clapton, Beck, Page, Hendrix and others whose very surnames suffice to bring to mind unforgettable songs and guitar solos. But who are today's new heroes? Guest blogger Joseph Nicholls shares his top 10. What are yours? Post your comments below.
The music industry creates more stars than any other activity. If we actually think about it then a lot of our biggest heroes, idols and influences will be musicians. That's not even taking into account just how much the music itself can influence us too.
Of all the different genres and instruments it's undoubtedly guitar music that is most well known. Guitarists have dominated the music scene since the 1950s with a wide variety of genres being blended together to create something unique. Guitarists of 50 years ago, and the music they created, is still having a profound impact on musicians today and what's being produced.
When we think of the best guitarists then a few names clearly spring to mind. Jimi Hendrix, Eric Clapton, Eddie Van Halen all were incredible writers, players and performers with their own unique style. These household names continue to dominate the guitar world and will likely continue to do so for another few decades at least.
But what about the less well known names? Who else is producing the music that we love to listen to and why don't we know about them? This article is about giving recognition to some of the hardest working musicians in the world. They may not have achieved universal stardom like the guitar heroes of the past, but they have still achieved a lot. Let's take a look at the top 10.
10. Keb' Mo'
Considering just how much Keb' Mo' has achieved in his career it's amazing he isn't a household name. Born Kevin Roosevelt Moore in Nashville Tennessee, Keb is an American blues musician who sings, plays and writes music.
Keb is known for his catchy and easy to listen to music. While he primarily plays acoustic, he's also incredible on electric guitar and can produce a wide variety of sounds. That coupled with his voice makes him great to listen to. You may check some popular electric on Guitarlisty.
Keb has released 13 solo albums and won 4 grammy awards. He's had fairly consistent success for the last 35 years and continues to grow in popularity.
9. Mark Tremonti
Given his track record and history, Mark Tremonti should really be a well known name. Mark was the lead songwriter and guitarist for Alter Bridge and Creed, two of the most well known and highest profit bands of all time. He's also produced a number of solo albums which have been well received.
Outside of his impressive song writing abilities, Mark is an incredibly talented player. He's performed some of the most complex and interesting solos we've heard in the last decade, absolutely shredding the strings in live performances across the country.
Mark Tremonti has won several awards and was even named guitarist of the year by Guitar World magazine for 3 years running. It's certainly a name that everyone should know, but very few seem to.
8. Joe Bonamassa
Joe Bonamassa is probably one of the more well known names on the list, but arguably still doesn't have as much recognition as he deserves. When he was only 12 he performed alongside BB King, and from there he's gone from strength to strength.
Joe has released 15 solo albums, of which 11 went on to become number 1 hits. He has an impressive track record of writing and releasing hit songs, even taking classic songs and reinventing them for the modern era. He has a huge range of guitars and equipment, with the perfect ear to pick up exactly what's needed and when.
Joe is admired in the music world for his impressive range, his mix of styles and his consistency throughout the years. He's one of the biggest blues names in the industry and definitely one that everyone should know about.
7. Keshav Dyar
Keshav Dyar is an Indian music sensation that's been producing heavy metal Indian guitar music for decades. The Indian music scene has remained fairly contained but is now at breaking point. It's likely in the next decade we'll see an outpouring of Asian talent across the globe, with Keshav's band Skyharbor leading the way.
Keshav isn't just a talented player, but a brilliant songwriter. He put together the entire debut album, Blinding White Noise, for his band which has had an overwhelmingly positive reception. Keshav uses an intricate and very deliberate style which focuses on the percussive elements. This strict playing contrasts with the creative music and makes something quite unique.
Keshav Dyar certainly deserves to be known more widely, but it's more to do with circumstance than any question of his talent. The Indian and Asian music scene isn't quite as close to the Western side as it could be, but hopefully this will all change in the future. Until then, Keshav is a talent you should learn more about.
6. Tosin Abasi
Tosin Abasi is a jazz metal guitarist who has developed a brand of music that isn't commonly seen. While jazz and metal can combine, Tosin has taken this to a new level and created a very interesting and unique sub genre which is much heavier than most.
Tosin has a very angry and brutal style which is underpinned by a level of musical genius. His band, Animals as Leaders, has seen great success on the back of this and received critical acclaim internationally. It's this ability to write and perform more challenging sounds which is why we believe Tosin should be more recognised than he is.
5. Guthrie Govan
Guthrie Govan is an English songwriter and guitarist who's played with a number of well known bands such as Asia and The Young Punks. He's also had a successful solo venture called Erotic Cakes. Guthrie opts for a mixed style and has shown he can turn his hand to whatever he wants. This has led to many of the greats recognising and praising his ability on the strings.
What's most impressive about Guthrie is his versatility. Alongside writing and playing he's worked with the legend Hans Zimmer to create film soundtracks. He's also a music tutor and is helping others to pick up the craft. Certainly he's a guitarist who deserves more recognition that he has today.
4. Paul Oritz
Paul Oritz of Chimp Spanner is another impressive instrumentalist who is perhaps not as well known as he could be. Paul has helped create both of Chimp Spanner's successful instrumental albums which flit between very light and heavy music, keeping the listener wondering what's next.
Paul opts for a futuristic vibe and style using 7 or 8 strings to make his music. With fluidity and strong post production skills, Paul is an expert who deserves the respect of the music world.
3. Eric Johnson
For those in the guitar world, Eric Johnson is very well known, but this fame has never made it much further afield. He's been performing since the 1970s and has performed alongside Steve Vai and Joe Satriani. His style incorporates qualities of both blues and jazz, showcasing his musical talent to adapt and create as he goes.
Eric has helped create and play hundreds of songs with well known artists. He's not only an impressive guitarist, but also well accomplished on the drums, bass and piano. Reliable, consistent and talented, Eric Johnson is a name to remember.
2. Felix Martin
Felix Martin is a Venezuelan talent and if you appreciate guitar music at all then who you really should know he is. Felix is unlike most artists and is almost exclusively self taught. He decided at an early age that he needed an extra string, but eventually went on to create a 14 string instrument that he uses going forward.
Felix uses a two handed tapping style that makes use of every inch of those 14 strings. It allows him to develop his own unique style and even play rhythm and lead guitar simultaneously. He plays almost exclusively alone, writing and performing in a very intense way.
Felix Martin is a once in a generation musical mind and it's a crime that he isn't more well known than he is.
1.Gary Boyle
Gary Boyle is a UK born guitarist who is widely regarded as one of the underrated guitarists in the world. In the 60s Gary performed with Dusty Springfield, touring Europe and playing concerts across the US. From the 70s he became more of a session musician, writing and performing with various artists, creating jingles and working on movie soundtracks.
Gary is a jazz fusion specialist, but also has the breadth to turn his hand to a wide variety of genres. He has proven himself able to adapt and perform as needed and because of his versatility he's one of the best known talents that artists would ask for when they needed backing. Definitely one to look out for and listen more to if you get the opportunity.
Who else should be on this list?
There are countless other acts who are performing day in, day out who deserve to be on this list. The truth is that while the biggest names had some insane skills, they didn't always have to grind as hard as the people on this list and we should never take that for granted.
Once you scratch the surface of the guitar scene you can see creativity and impressive talent everywhere. So don't be afraid to broaden your horizons, and always seek out acts you haven't heard of. This can lead you to find some hidden gems who will help you develop your tastes across genres.
What about you? Who are your favourite guitarists active today?