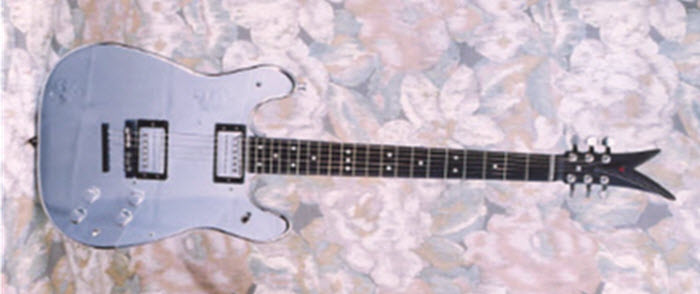 Some guitars are so unique, they acquire something of a "cult status." I think you could say that about Veleno guitars. Not only have they been played by some famous guitar players (can you say Mark Bolan [T-Rex], Eric Clapton, Jorge Santana, Pete Haycock [Climax Blues Band], Alvin Lee, Ronnie Montrose [Edgar Winter Group], Martin Barre [Jethro Tull], Ace Frehley, Dave Peverett [Foghat], and Mark Farner, just for starters?), they're pretty darned rare. Not to mention so darned cool!
I kind of missed contemporary pop music during the 1970s, with my eyes glued to classical guitar books and my stereo playing old 78 rpm records I found in thrift shops. So, I also missed Veleno guitars, although I did read Guitar Player magazine and thus had a kind of literary idea of what was going on. I probably first learned about Velenos in those pages and, later, when I started building a collection, a Veleno went on my wish list.
I finally located a pair for sale listed in the "want ads" of Vintage Guitar Magazine. I was on the phone two minutes later. A minty gold one was already gone, but this chrome beauty was still available, so I paid what was back then a lot of money to get it.
The fellow who sold it to me knew where John Veleno was living and I was able to track him down in Florida. That resulted in some interviews that yielded an article in Vintage Guitar Magazine, the chapter in my book Guitar Stories Vol. 2 and subsequent entry in Electric Guitars, The Illustrated Encyclopedia.
John was an amiable fellow who gave me a bunch of great anecdotes. These days I might be a little more critical of some of the facts, but it's pretty hard to get corroborating data on a small guitar-maker from Florida!
John Veleno (b. 1934) was a machinist who grew up in Massachusetts. He started taking guitar lessons in around 1958 and by 1961 he'd become a teacher. If you've ever taught guitar, you know it ain't exactly the most dependable living. Married with children, he became a machinist and relocated to St. Petersburg, Florida, in 1963 and got a job in a machine shop that made aluminum parts for use by NASA at then Cape Canaveral. Veleno augmented his day-job income by giving guitar lessons at home after work. You see where this is going!
Actually, the Veleno guitar originated from some advertising for his teaching sideline. To attract attention to his lessons, John fashioned a guitar-shaped aluminum mailbox for his house. Intrigued by the design, friends urged him to build a real guitar out of aluminum. John bit and Veleno guitars were born.
Using the technology with which he was familiar, Veleno guitars were carved out of aluminum, which was either chromed or anodized—I'm not sure I understand the difference. Most were chrome, but a few were gold, and fewer yet were done in red or blue. Or at least those were offered.
If you read my accounts, you'll find an estimate of around 185 Veleno Originals being made, plus another 10 or so other odd models. That was based on Veleno's recollection. You'll find other numbers on the Internet, but they're all in the same ball-park. Apparently there were some forgeries made, but it's not clear when that happened; it seems like there was an issue with eBay in the early 2000s. At this writing Veleno was still offering to make you an upgraded version for around $8,000, but, by his own accounting, he's only made around 10, if that, so Veleno guitars are still relatively rare.
Truth about Velenos is sometimes elusive. Plus John's accounts were not always crystal clear. He has a massive, rambling "autobiography" you can find with a little searching on the Web. He talks about me in it, accusing me of claiming that he made 3 guitars with bird-shaped heads, wondering where I got that wrong information. Well, guess what? That's what he told me. He forgot to mention that they were just necks and after Jorge Santana bought a guitar with one, he cut those other heads off. He also claims I got "fired" from my job around 2002, implying some connection that questions my credibility. Actually, I have been fired a couple of times during my advertising career! But, for the record I was laid off at that time and started a very successful agency shortly thereafter which I ran for more than a decade. In any case, it's all very amusing!
This guitar is #90 and features the original Guild humbuckers. The fellow who sold it claimed it had formerly belonged to Frank Hannon of the band Tesla, but there's no way to verify that. Hannon is on the list of Veleno owners. This guitar was part of the Dangerous Curves exhibition at the Museum of Fine Arts in Boston and it's in Acoustic Guitars and a host of other books because the photos were subsequently licensed to other publishers (not by me).
Veleno Originals are actually pretty good guitars. They're light-weight and easy to play. And, if you have one, you're part of a fairly exclusive club. Like I said, cult objects!