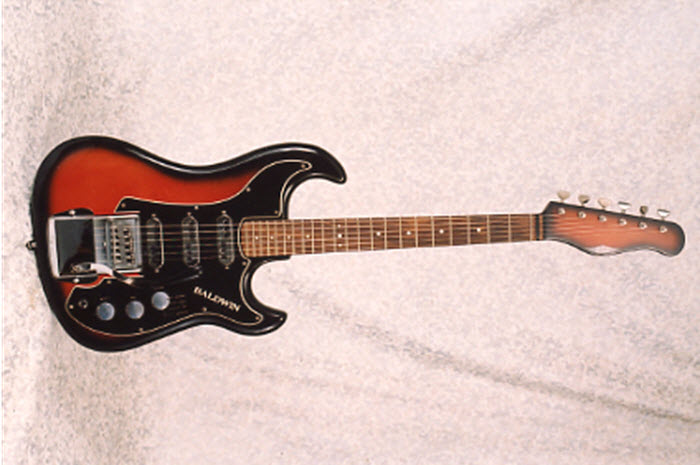 Go ahead, admit it. If someone told you there was a cool Sixties guitar with a factory setting called "Wild Dog" (or maybe even one called "Split-Sound"), you'd want one, wouldn't you? Of course you would. That's why, once I found out about the Burns Jazz Split-Sound, it went straight to the top of my wish list. But sometimes when you get what you wish for it doesn't live up to the hype!
I finally found my Wild Dog on, of all things, the inventory list of George Gruhn, the eminent Nashville vintage guitar dealer. Now, that may not seem odd to you, but this was a long time ago. Back then finding guitars was done by eagerly getting the first printing of the Trading Times, a weekly newsprint want-ad rag that was published all over the country in localized versions. If you're one of those young-uns who walks around with your nose in a smart-phone, "want-ads" were notices you paid to put in the paper if you had something to sell. EBay didn't exist. Only Al Gore used the Internet. George's list wasn't in the Trading Times, but in Vintage Guitar Magazine, which was the Trading Times for old guitar junkies.
Anyhow, I got this 1965 Baldwin-Burns Jazz Split-Sound from George Gruhn for what I thought was a high price at the time, but it was a relative bargain at Gruhn's because this was the time when everyone was still looking for vintage Strats and Les Pauls (before they cost 5 to 6 figures), not Baldwin-Burns guitars. So, this wasn't on the radar at the time. Except for someone like me. There's a reason I'm billed as "The Different Strummer."
Baldwin-Burns guitars are part of the madness that was the 1960s guitar industry. Baby Boomers like me liked guitars and corporations with money started buying up guitar manufacturers. CBS and Fender, Norlin and Gibson, etc., etc. Among the early suitors for Fender was the Baldwin Piano and Organ company of Cincinnati. When Fender went on the block in 1965 due to Leo's health problems, Baldwin tried to buy the company. CBS outbid them and that was that. At the same time, Burns of London, owned by Jim Burns, was having financial difficulties. Burns was more guitar "genius" than business wizard. The plan was to import Burns-designed and produced guitars carrying the Baldwin name. The first units began to arrive in late 1965 and this was a very early arrival of the Jazz Split-Sound model.
Actually, this is pretty interesting in a number of dimensions. First of all, it's a "Strat" configuration, although pretty liberally interpreted, with "notes" of the Burns Bison. Back in the mid-'60s Fender's top guitars were the Jazzmaster and Jaguar, which were most copied by both European and Japanese manufacturers. It's early because of the head, which became a scroll design in mid-1966. Like I said, Jim Burns was a pretty good guitar designer and this has one of his Series 2 adjustable vibratos. The pickups are a pretty interesting take on a humbucker, really kind of a hybrid, with offset coils and poles. This is, no doubt, the origin of the "Split-Sound" nomination. These are pretty cool, because the "Split-Sound" meant that the neck coils captured the bass strings and the bridge coils got the trebles. I'm not really sure you can hear the subtleties, but it's dang cool none-the-less.
The "Wild Dog" setting is, well, underwhelming. It's basically an out-of-phase sound like you get in the in-between positions on a Strat, but the pickups aren't really as hot as a Strat's, so, while it's cool—and pretty innovative—in a '60s guitar, it's really no big whoop. But good marketing!
This is, for the times, a professional grade instrument, on a par with Fender or Gibson, with an entirely unique feel, of course. Burns doesn't get the respect he deserves in the American market, and the Baldwin—and later Ampeg—monikers didn't help with credibility, given the consumer illusion that a brand name had to equate with the manufacturer. Which it almost never has.
Despite all the technical features that make this guitar desirable, there really isn't any "Wild Dog" there. Maybe compared to a Kay or a Harmony electric. And to get Wild Dog out of a Strat, you needed toothpicks. Nada on Gibsons.
That the "Wild Dog" setting was kind of disappointing doesn't diminish the coolness of this guitar, but it certainly wasn't what I expected. More like "Big Whoop." But pretty good marketing!