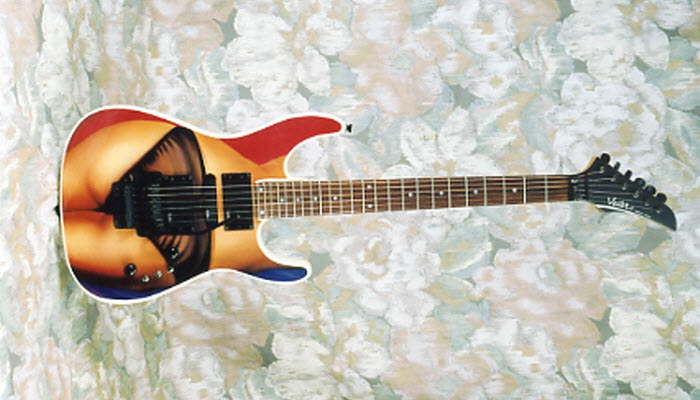 Now that we've grabbed your attention, you may be surprised to find that it's not that easy to write responsibly about a guitar with a shapely woman's derriere replacing quilted maple on the top, but we'll give it the old college try.
Actually, painted finishes have been around probably forever. I'm no expert on really old guitars, but I'm sure faux wood finishes have been used ever since the technique was invented. It was popular in the late Victorian period on many items, including boxes, clocks, and furniture. Chicago's Joseph Bohmann specialized in acoustic guitars with faux wood finishes from the 1880's into the early 20th Century. Faux wood finishes returned on inexpensive guitars during the Great Depression of the 1930's, obvious concessions to the hard times. Even Fender and some other makers used a form of photographic faux finishes on their electric guitars in recent times.
Likewise graphic decorations have been used time out of mind. Technically speaking, marquetry and purfling are forms of it. Stenciling probably existed for a long time, but by the 1920's it had become a common technique for dressing up cheaper guitars. Think of those cowboy guitars with roundup and campfire scenes on the front. Sometimes this "stenciling" was actually what was known as "decalomania," use of a colored acetate decal under the clearcoat. These could be as simple as gold scrolls to 4-colored scenes like on the Bradley Kincaid Houn' Dog of the late 1920's.
All these "finish tricks" are ancestors of the guitar graphics that emerged in the late 1970s and early 1980s. Probably no one did more to champion custom graphics on guitars than Rick Nielsen of Cheap Trick, whose checkerboard-to-self-portrait guitars almost define the genre. By the early '80s heavy metal was on the rise. Essential to metal was flashy guitar playing and for that you needed a flashy guitar, often with nifty graphics. Graphic guitars trailed off late in the decade but right around 1989-90 there was a resurgence of the form. Crackle paint jobs, bowling balls, and guitars like this here c. 1990 Vester II Concert Series (JJR Series) HFR-1070 (I kid you not).
I tried to get information about Vester guitars and contacted someone at the parent company, but it was NAMM time and later I misplaced the contact. But we know a little. Vester guitars were imported by Samuel Music Company of Effingham, IL, probably beginning in the late 1980's, by 1987 at least. Your guess is as good as mine as to why this is a Vester II and not just a Vester. There were some "Traditional Series" copy guitars, and some more modern bass designs, at least. Vesters were made by Saehan Guitar Technology of Korea. Online sources say there were some Japanese Vesters as well, but take that with a grain of salt, since the Korean Saehan factory is the only source identified. The guitars were imported by Midco Music, which became Musicorp. Most Vester guitars of this vintage had typical graphic finishes for the times, some abstract, some representational.
I'm not sure how this graphic was produced, but I'm guessing its some sort of photo-printing process of an original airbrushed image. This is a pretty standard form of Superstrat, with the H/S/H pickup layout. The pickup covers are marked "Vester" and encase serviceable Korean pickups. The controls are interesting. Supporting the master volume and tone are the mini-toggles that control each pickup. The single-coil is on/off. However, the humbuckers are on/off/on, reversing the phase between the two on positions. Pretty clever and pretty complicated, if you ask me.
By the late 1980s Korean manufacturers were making decent guitars. These are solid, competent guitars. If you like personality, they don't have a lot. But how do you define "personality?" Some guitars have this vibe that incorporates some sort of ineffable essence from the people who made it. Some are just good tools…and this falls into that category. Pump it through some nice effects and it will perform admirably.
I've no idea how long Vester brand guitars were produced, but probably into the mid-1990s at least. With the advent of "the Seattle sound" spearheaded by bands like Nirvana, Superstrats fell out of favor, and overtly sexist graphics were hardly appropriate. Vester guitars don't seem to be especially rare, but this is the only one of this graphic I've ever seen. But, it was cataloged. At least we can say they are not everyday occurrences.
As a red-blooded heterosexual man, I'm tickled by the idea of exercising that strategically placed whammy. But, to be honest, it's hard to imagine a venue where you could do that without garnering the ire of a good portion of the human race these days. Not sure I'd have the…
Well, so, did I write responsibly about a guitar decorated by a woman's rear end? You bet your…