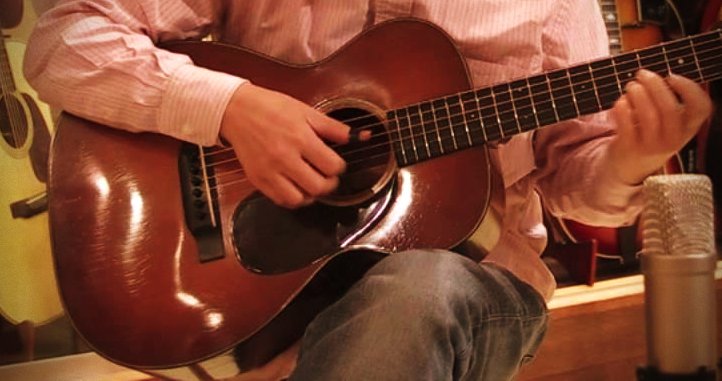 We love vintage guitars, of course. But for those who've never shopped for a vintage instrument before, it can be a minefield. This guest blog Joseph Nicholls will help those who are thinking about getting their first ever vintage guitar.
With the wide range of musical instruments, a guitar is one of the most common instruments that you will find among many musicians. There are different types of guitars that you can choose, depending on your preference and taste. With the latest technology in the modern world, there have been so many variations when it comes to guitars. However, some people still prefer using vintage guitars as compared to the contemporary guitars, why? Let us find more details about vintage guitars that you should know.
What Exactly Is A Vintage Guitar?
This is probably the question that is running through your mind. Let us first understand what is vintage. In simple terms, vintage refers to something of the past, and it is of high quality. There is no specific definition of what qualifies a product to be called vintage. However, vintage guitars are guitars that have been around for around 30 years or older. Basically, we refer to things that were made before 1980 as vintage.
Why Buy A Vintage Guitar?
Why would someone consider buying a vintage guitar, yet there are so many modern guitars with improved designs and features? What is so unique about vintage guitars? Well, there are so many reasons why people prefer buying or collecting vintage guitars.
First of all, vintage guitars are beautiful. For instance, if you have a close look at the Martin 0-38 Parlor guitar (1985), you will be impressed with the looks of this guitar. This guitar features a spruce top, rosewood sides and back, ebony fingerboards and bridge and a herringbone inlay. All these make this guitar one of the most beautiful vintage guitars.
Another reason why people prefer to buy vintage guitars is because many people believe that aged wood provides better sound quality. On top of that, anything of the past has a history and so do vintage guitars.
Either way, now that you have made up your mind you want to buy a vintage guitar, you might be wondering where to begin. You don't have to worry because I have got you covered. This article covers everything that you need to know about vintage guitar. I will also give you some tips that will help you select the best vintage guitar.
Important Information You Should Know About Vintage Guitars
When shopping for a vintage guitar, there are several things that you need to know so that you can pick the right guitar. The following are the things that you should check.
Who is selling the guitar?
You definitely want to know who is selling the guitar. Ask a lot of questions prior and evaluate the seller to ensure that you get an authentic guitar. In most cases, buyers prefer buying vintage guitars from a local store because they are sure of professional reputation and in-house repairs.
Of course, you don't want to end up with a guitar that will disappoint you may be due to poor quality craftsmanship. Therefore, you should not be afraid to ask any questions that you have in mind before buying. If you are buying from a professional seller, then they should give you details or any issue. While not all the problems can prevent you from buying, some minor problems you find might not affect the tonal quality or the guitar playability.
In most cases, you do not expect to find the guitar in the same condition that it was when it was made. And for many players, their priority is finding a vintage guitar that plays well and provides a high-quality sound output. In fact, you will find that many vintage guitars that are not all-original will work well and meet your needs.
When you are buying a vintage guitar, you should also consider the mode of payment that the seller accepts. Most sellers will accept PayPal, among other payment methods.
How to Choose a Vintage Electric Guitar
Now that you know some essential things you need to have in mind before buying a vintage guitar let us go straight to a simple buying guide that will help you pick the right vintage guitar. The following tips will help you choose the best electric guitar for newbies.
Tone
The tone is the most important things that you should check. Even if the guitar looks great, it should provide you with a crisp and clear tone. And if you experience problems setting up the guitar, you can seek help from a guitar professional.
The vintage
What is the vintage of the instrument? Check for details such as finishes, serial numbers, workmanship, hardware, electronics and wood among others to get the clue.
Material
Vintage guitars are scarce, so you need to consider rare woods and other materials. If you find vintage guitars made of Brazilian rosewood, ivory, tortoiseshell and ebony inlays, then this is an indication of a quality instrument.
Guitar condition
You should also check the quality of the guitar before you buy. For instance, you should pay attention to whether there are scratches, worn frets, warped neck, or glue separating the joints. The presence of these might affect the overall value of the instrument.
Age and alteration
How old is the guitar? In most cases, older guitars have a greater value as compared to a new one. Additionally, you should check if the guitar has been altered. Look for a guitar with very minimal alterations and few scratches on the original parts.
Don't worry about weak neck
With time, the solid body of the guitar begins to lose stability so it can't stay in tune. So the neck can become unstable because of old age, and this should not worry you.
Final Words
They say that old is gold and most players understand this in regards to vintage guitars. If you want to enjoy a beautiful design, great sound, and easy playability, among others, an old guitar can be a great purchase. I have provided you everything that you need to know if you are considering to buy a vintage guitar as well as buying tips to help you land on the right model.