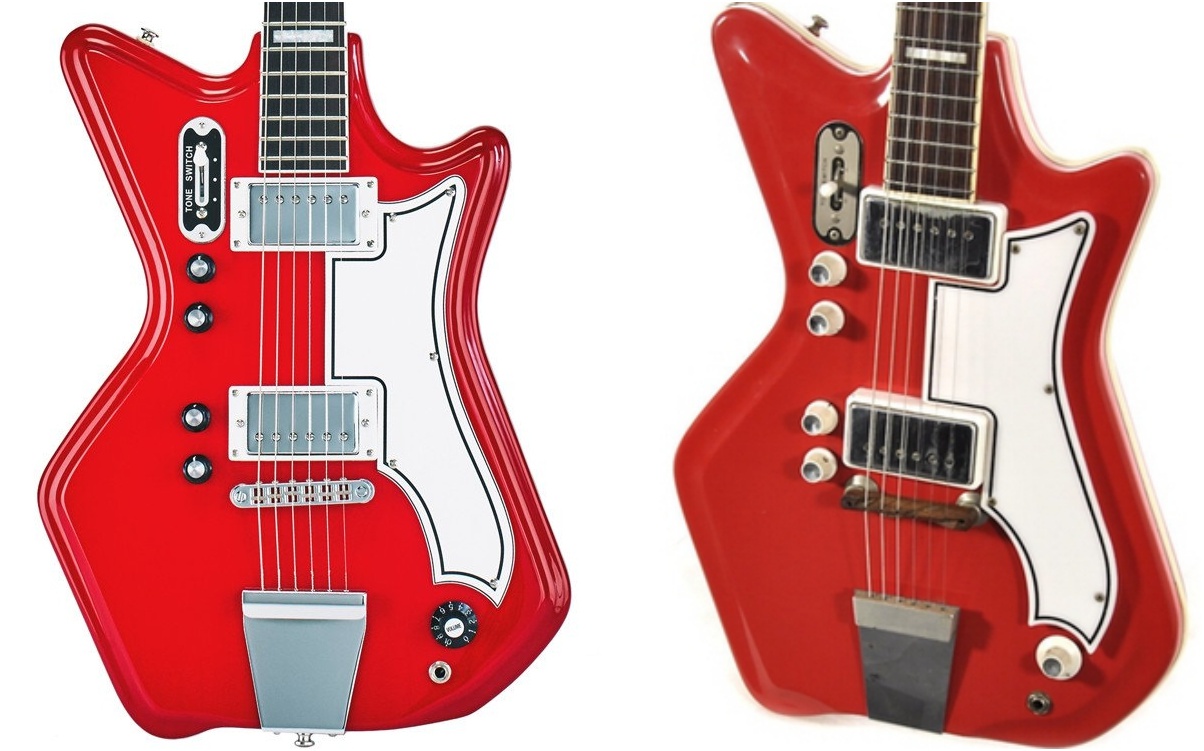 Airline guitars have come a long way since their late-Fifties early days. But, how do the new ones, made by Eastwood Guitars, compare to the originals? Res-O-Glass vs. Mahogany, Old vs. New. Who wins?
The original Airline guitars were cheap, plastic (or rather, "Res-O-Glass") models made between 1958-1968 and sold by Montgomery Ward via shops and catalogues. They were never intended to be great-quality instruments – but cheap alternatives for beginners who couldn't afford bigger brands such as Fender, Gibson or Gretsch.
Most Airlines were made of Res-O-Glass simply because it made them cheaper and quicker to be put together – with no particular regard for quality or tone.
However, this characteristic made those guitars quite unique, and eventually a few professional players started to appreciate the qualities of the Res-O-Glass tone as "a thing".
One of the first performers to be closely linked to the instrument was bluesman J. B. Hutto, whose red Airline must've been one of the inspirations for Jack White playing one, decades later:
Ah yes… Jack White. Despite the fact other musicians over the years have opted for vintage Airline Guitars (PJ Harvey, Calexico, Black Keys, Brian Jonestown Massacre) it was Jack White who most certainly brought the brand (especially the now-iconic JB-Hutto guitar shape) to the attention of a wider audience.
Vintage Airline Guitars vs. Eastwood Airline Guitars: What's the Difference?
When considering which one to buy, it's important to remember a few things.
1) The first is this: Jack White didn't really like his Airline guitar.
Yes. True. He, basically, thought they were terrible. Not long ago, White described his experience playing them:
"If people only knew how hard it was on these shitty guitars …  because I didn't know!"
In the now-classic It Might Get Loud film, Jack White once again described his experience playing his Airline:
"Pick a fight with it—that's what you gotta do. Pick a fight with it and win the fight."
Basically – Jack White, as a highly visual artist, chose to play an Airline guitar because in itself it sent a strong, visual statement about his band The White Stripes – the red color, the unusual shape, the fact it was a model used by an obscure bluesman… it showed they were different. And, as a musician, White liked th fact the guitar wasn't a very good one: it made him struggle, it wasn't reliable, it'd go out of tune, it'd make him fight it, and thus produce some more interesting performances, giving an edge to his playing.
In short: if you're not Jack White, and if you decide to invest on a vintage Airline, you could end up disappointed, as they are generally not such great guitars… for the money. In the early nineties, in the days pre-White Stripes, few people cared about the Res-O-Glass models, and they were still sold cheap on the second-hand market. Perfect for scuzzy garage rockers with little money to spend, or for those who collected unusual vintage guitars… like future Eastwood Guitars CEO Mike Robinson.
2) New Airline Guitars are real Airline Guitars
In the early 2000's when Mike Robinson noticed all those quirky, cheap vintage guitars such as old Airlines, were increasing in value due to a renewed interest post- White Stripes, Black Keys et al, he decided it was time to actually bring them back – brand new, more affordable and more playable – and hence
Eastwood Guitars
was born.
But the story didn't stop there, of course – Mike decided to resurrect the Airline brand, and bought it. Which means, new Airline Guitars are not "copies", but real, bona fide Airline guitars – just like a new Fender or Gibson are still the real deal, even if their instruments are made of different materials and in different factories than in the 1950's.
3) Vintage Airline Guitars vs. New Airline Guitars: Which One Is actually BETTER?
That's a great question. That is the question. And that is something we can't really tell you – it's up to you to decide. There's no doubt that there's much more kudos in owning a vintage Res-O-Glass Airline, just like Jack White did. There's no doubt that for a guitar collector, they're something to be proud to own, a worthy addition to the collection of any fan of quirky, vintage guitars.
But for most gigging guitarists, those vintage Airlines are not necessarily the best choice. Tone? Great, sure. But in our own experience we've struggled to find vintage ones with a particularly good neck, and overall they're simply not that reliable.
Just a look at the inside of any vintage Res-O-Glass model will show how cheaply put together they were. The necks didn't have a truss-rod and required reinforced steel to be kept sturdy. All in all, a very alien instrument compared to todays' standards – part of the appeal to some, but also the reason others (most?) would feel much more at ease playing a new Airline Guitar made by Eastwood.
The modern Airline guitars have kept the looks and the vibe that make the originals such cool instruments to play onstage – you know, a change from decades of Strats and Les Pauls, something that today still grabs the audience, visually.
But, of course, there are other, less obvious but very important changes – or, as should we call them, upgrades: the tone-chambered mahogany body, Airline vintage voiced Single coils (Humbucker-sized), tune-o-matic bridge and bolt-on maple neck. The new Airlines sound great, rich, and are more comfortable and familiar to play than vintage ones.
The vintage Airline Res-O-Glass guitars are undoubtedly cool, and any guitarist will get extra kudos for owning one. If you got one dirty cheap in the 90's, that would've been definitely 100% worth it, even if no one wanted to buy one anymore, today. But now… are they really worth the price tag they go for today, after the Jack White hype? Mmmm…
So, the big question, then: are the new Airline guitars by Eastwood better than the originals? We would say so – just as many professional musicians playing one, worldwide also would. Let's face it, a tone-chambered mahogany body beats plastic any day. There's a reason why most guitars by most brands are made of wood, after all.
But we'll leave the final answer to you – after all, in everything in life, and certainly when it comes to guitars, your own taste is what matters, and it'll change from player to player. If you ever come across a Res-O-Glass guitar, by all means have a go – you might even love it. But will it be worth the investment, especially if you're a gigging musician? Perhaps… perhaps not.
Watch: Vintage Airline Guitar vs. New Airline Guitar by Eastwood
Vintage Airline guitar demo:
New Airline guitar demo: