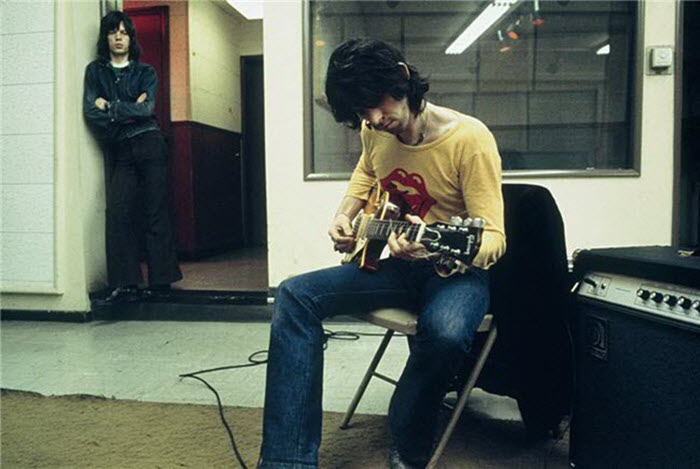 Today, we have the long overdue follow-up to the "10 Classic Guitar Amps" article by Ben Fargen of FargenAmps.com. Ben's first post has become one of the most popular articles ever published on this site, so we asked Ben another list of definitive amps and songs. Be sure to let us know what you think in the comments section below!
11. Ampeg VT 22
Song: All Down the Line
Artist: Keith Richards (The Rolling Stones)
Ah, Keith Richards and his Les Paul + Ampeg VT 22 combination. It's like chicken soup/comfort food for the soul of tone. Holed up on the coast of France during 1969/70 to avoid arrest for tax evasion changes back in the UK, Keith and the boys recorded one of my all time favorite albums. Check out anything off Exile on Main Street for reference. The riff and tone on "All Down the Line" is a standout track to me. PURE KEEF!
12. Carvin X100B
Song: Blue Powder
Artist: Steve Vai
I'll never forget the first time I heard Steve Vai's "Blue Powder" on his breakout give away flexi-disc record that was included in the October '85 issue of Guitar Player Magazine. The sheer melodic content vs. guitar prowess was beyond insane for the time. Steve Vai houses genius, melody and lighthearted feeling in a way that no other guitar player can. The tone and technique offered in the thin piece of vinyl was a small viewing glass into what was soon to become a new era in instrumental guitar technique.
13. Marshall 6100 30th Anniversary
Song: Up in the Sky
Artist: Joe Satriani
I had the opportunity to take my stepfather to see Joe Satriani at the memorial auditorium in Sacramento, CA for his birthday on October 29, 1998 during the Crystal Planet Tour. I'll admit I had stepped outside my earlier hard rock guitar roots at that time and was listening to more alt country and pop stuff then. Seeing Joe on that tour blew my mind and reminded me of why Joe is the KING of all things instrumental rock guitar. I soon went out and purchased the Crystal Planet cd after the concert and was given a heavy dose of all things that inspire rock guitarists to play – including but not limited to – amazing instrumental guitar songs with pure tone and heartfelt performances. In the strange mystery that is life, Joe would later become a client of mine and a good friend. We have talked about how that album was recorded mostly live at "The Plant" in Sausalito. The majority of the core tones were captured with single channel tube amps, including the Joe Satriani staple: Channel One of the Marshall 6100 Anniversary Edition with a Japanese Boss DS-1 pedal pushing the front for the gain. In the hands of the master, even this simple setup can be considered legendary. Check out "Up in the Sky" as a standout track, but every track on this album is pure gold. One of my top ten instrumental albums of all time.
14. Hiwatt DR103
Song: Comfortably Numb
Artist: David Gilmour (Pink Floyd)
David Gilmour of Pink Floyd has always conjured up jaw dropping juicy tones of mythical proportion for decades. The Wall album feature many classic songs and some of my favorite recorded solo guitar tones ever. It seems Mr. Gilmour's go-to amp on stage and in the studio is the Hiwatt DR103 100W head with WEM Super Starfinder 200 cabinets loaded with Fane Crescendo speakers. In this case I would say that David's core tone is crafted from his hands, guitar and the highly elaborate Pete Cornish pedal board that is fed into the amp. More so than the amps stand-alone sound, his DR103 acts more as a clean full range power amp in this setup but is still noteworthy. Check out the solo in "Comfortably Numb" as my standout track. For more great info on David Gilmour and his gear, check out www.gilmourish.com as well.
15. Fender Eighty-Five (Solid State)
Song: Creep
Artist: Jonny Greenwood (Radiohead)
When the band Radiohead hit the scene in the early 90's, I was immediately impressed with the songs and the two unique and original guitar parts on every song. Both guitarists (Jonny Greenwood & Ed O'Brien) seemed to cover so much tonal spectrum, yet always giving way to complimenting the song and never walking over the other players parts. I was surprised to find out at a much later date that Johnny Greenwood used a solid state Fender 85 amplifier as his main set up with pedals (including a Marshall Shredmaster pedal) driving the front of the amp to get his signature overdrive sound. Very early in Radiohead's career, Jonny's only amp was his Fender Eight-Five, which he used for both his distorted and clean tones. By late 1993, however, Jonny had bought his first tube amp: a Fender "The Twin" – which is the version Twin Reverb produced at the same time as the Eighty-Five. I think Radiohead is one of the most important and truly original groups to come out in the last 20 years.
16. Vox AC30
Song: Apache
Artist: Hank Marvin (The Shadows)
Across the pond in the late fifties & early sixties, The Shadows were cranking out pop and instrumental hits left and right. They achieved over 60 UK chart topping singles during there long and successful carrier. As a result of their success at the start of the 60's, Hank Marvin had an interesting influence on the current VOX amplifier designs of the day as noted in this interview:
Along with the Fender guitar, another cornerstone of the Shadows sound was the Vox amplifier. According to Hank Marvin:

"Vox was one of the first companies to get onto artists and groups so they could promote their amplifiers. In fact, I tried Fender amplifiers first, but preferred the sound of the Vox with the Strat, because I think it was more of a raw sound. The Fender amplifier, to my ear sounded a little too smooth with a Strat, and I seemed to get more guts out of a Vox."

Reg Clark worked in the Vox store in London's Charing Cross Road in the early 60's, and credits Hank with instigating a major Vox development:

"He suggested we made one with two speakers and it was from that comment that the AC30 came."

The Shadows had tried the more powerful Fender Twin, but the Vox AC15 provided the sound they wanted, albeit with insufficient volume. Using two amplifiers each was rejected, and Vox finally came up with the legendary AC30, with the group taking delivery of four in late 1959. The AC30 was a 30-watt model with 12″ twin speakers and EL84 output valves. Hank's amp was modified with a treble booster to provide a cleaner sound at high volume levels and this model was later sold commercially as the AC30 Top Boost.
Soon after, Hank changed his echo unit to the Binson Echorec, and a true legendary combination was solidified!
17. Gibson EH-150
Song: Stomping at the Savoy
Artist: Charlie Christian
Charlie Christian is the modern godfather of amplified electric jazz guitar. He is credited as a pioneer for taking the humble roll of the rhythm jazz guitar player in non-amplified form and pushing the boundaries to the point where other musicians respected the guitar. He proved the amplified guitar as a viable lead and solo instrument in the context of a large jazz ensemble. The Gibson ES-150 guitar coupled with the very rudimentary Gibson EH-150 tube amplifier paved the way for the future of modern electric guitar. Check out Charlie on the track "Stomping at the Savoy" and think back to how amazing that must have sounded live in the room in 1941 NYC.
18. Modified Marshall 100W Super Lead Plexi (The "Pete" Amp)
Song: Welcome to Paradise
Artist: Billie Joe Armstrong (Green Day)
When Green Day hit the big time on their chart topping Dookie album in 1994, I was immediately intrigued. Dookie was the band's third studio album and its first collaboration with producer Rob Cavallo – and its major record label debut. Green Day seemed to come out of nowhere with their punk and thrash attitude, yet the songs were tight & concise hit pop/AOR sensations. Not only is Billie Joe Armstrong of Green Day a killer songwriter and performer, his guitar tone is super fat and chunky. Wielding his bastard green Fernandez Stratocaster copy and a modified Marshall Plexi Super Lead 100-watt amp head (with the name duct-taped out), Billie Joe has perfected that tight right-hand rhythm and is so locked in with Trey Cool and Mike Dirnt. They create a modern power trio that is highly underrated IMHO. Check out the opening riff to "Welcome to Paradise" and you realize right then and there – this is the fundamental core sound of modern alternative rock as it stands today.
19. Kustom K200A-4 (aka the 'A4' or the K200A Model 2-15L-4)
Song: Born on a Bayou
Artist: John Fogerty (CCR)
Another solid state transistor amp to make the list! The Kustom A4 amplifier with 2 x 15″ cab. This was John Fogerty's main live rig for the classic CCR years, but there is also proof that he did use a a silver face Fender Vibrolux Reverb on many of the CCR studio recordings. The Fender provided more of a natural distortion that the transistor-based Kustom just couldn't provide. John's Kustom amps on stage always had the Trem / Vib set at one o' clock as seen in many photos. Check out this classic performance and tone from Woodstock with the Rik in hand. There's no doubt in any guitarists mind who the player is when the intro riff of this classic rock song comes through your radio dial.
20. Standel Amp
Song: Mr. Sandman
Artist: Chet Atkins
In the mid to late 50's, all the top guitar players and band leaders of the time were custom ordering Standel amps from Bob Crooks in CA. From StandelAmps.com:
Bob Crooks built approximately 75 amps with the first design (knobs on top of the amp), all out of his backyard workshop at 10661 Freer Street in Temple City CA. Chet Atkins couldn't order one himself because of his endorsement deal with Gretsch, but he bought one from a guitar player friend and used it on thousands of recordings. You can hear the amp during Chet Atkins appearances on "Classic Country" originally from 1957 but rebroadcast in the mid-80's on TNN, Chet's White Standel can be seen behind him on a bale of hay on about half of the performances).
Chet Atkins is arguable the most accomplished and amazing guitar player in US history. This performance of "Mr. Sandman" shows his effortless touch and command of the instrument.