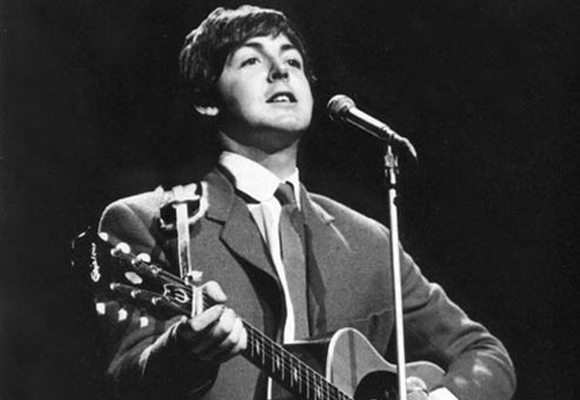 Many Beatles fans are not aware that Paul McCartney played more than just his Hofner Bass, especially since that was his main instrument seen in their live performances and music videos. Paul in fact used other basses as well as guitars. This article will show you several instruments Paul used with the Beatles that you may not have known about.
RELATED: George Harrison's Guitars in the Beatles
Basses
1964 Rickenbacker 4001S-LH
In 1965, Paul got his hands on a Rickenbacker bass which was first used on the song "Think for yourself". He also used it extensively on the Revolver and Sgt. Pepper albums notably on tracks such as "Penny Lane" and "Strawberry Fields". McCartney sometime in 1967, painted the Hofner with day glow paints to give it a psychedelic look. George Harrison and John Lennon did the same for the occasion. The newly painted Rickenbacker can be seen in the live satellite performance of "All you need is Love" in June of 1967.
1966 Fender Jazz Bass
Paul used a Fender Jazz Bass in 1968 during the Abbey Road/White Album sessions. It can be heard on songs such as "Sun King", "While my Guitar Gently Weeps", and "Yer Blues". This was the last known bass (aside from the Hofner) that McCartney used with the Beatles.
Guitars
Epiphone Texan FT-79 Acoustic
The Epiphone acoustic guitar was used by Paul on the album Help, specifically for the song "Yesterday". It can be seen in his live performances of "Yesterday" as well. McCartney, known for being a hoarder of instruments, still has this guitar today.
1962 Epiphone Casino ES-230TD
Paul got this righty Casino which he modded in order to be able to string it as a left-handed guitar. Known as one of Paul's favorite guitars ever, he used it on famous songs such as "Taxman", "Paperback Writer", and "Drive my Car". This guitar can be seen today as Paul still performs with it.
1964 Fender Esquire
This sunburst Fender was played by McCartney in 1966 for the Revolver album. You can hear it on songs such as "Good Morning, Good Morning" and "Helter Skelter". Very little is known about how Paul got the Esquire, or where it is now.
1967 C.F. Martin D-28 Acoustic
Another acoustic guitar Paul had was a nice, warm-sounding Martin which he acquired in 1968. It was used in the White Album Sessions and can be heard on the songs "Two of Us" and "Blackbird".
Well, there you have it. The other guitars and basses Paul used with the Beatles. Hope this gives you more insight into some of the magic of the Beatles!
Posted by Raj from Guitar Tone