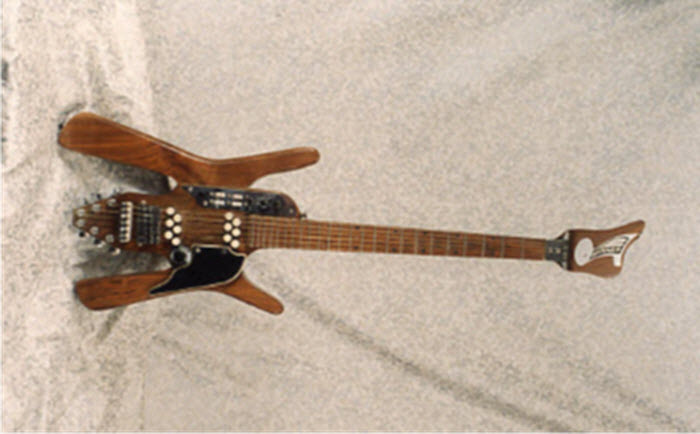 Jeopardy Quiz: When do you think this Bunker guitar was made? When I first laid eyes on it, I was pretty sure it was from the late 1970s. It just has that '70s "natural" kind of vibe. Well, the correct response would be, "What is 1968?" I was shocked. This matched none of my presuppositions about guitars from the Sixties. But then, Dave Bunker has made a career out of being ahead of his time with the unexpected.
Actually, the name of this guitar does provide something of a clue to its vintage: a Bunker Astral Series Sunstar. Far out, man. Shades of Star Trek. The Astral Series was the brainchild of Dave Bunker, a luthier whose name you may not know, but whose work you just may have encountered. Dave was born out in Washington State in 1935 and by the 1950s was playing guitar. Back then the legendary Jimmy Webster was touring the country promoting Gretsch guitars. Webster was one of the modern pioneers of two-handed tapping and the technique was a revelation to Bunker, who adopted it as his own.
Bunker became a teacher and began working on designing a double-necked tapping guitar, which he called the Duo-Lectar. This was the beginning of a long line of inventions intended to improve the performance of guitars. Dave actually build around 50 Duo-Lectars in the early 1960s. In 1964 Dave became part of a pop trio with two lovely sister singers and toured with them, playing Las Vegas and cruise ships.
Apparently Bunker had time to keep refining his guitar ideas and in around 1966 or so (he doesn't remember exactly) he introduces the Astral Series guitars. Described as "The Guitar of Tomorrow," for once the hype was right on. Basically this is a central core so beloved by tappers with two detachable wings or pods to give it guitar dimensions. The original idea was that you could get different looking pods and change the look of your guitar.
Alright, we're are already in Klingon territory for 1966…or even today. But a core body with detachable pods is, in the end, largely a matter of carpentry. BUT, Dave had already developed his "tension-less neck." Dave had found that he got dead spots where the truss rod was anchored, around the 10th fret. This led to his routing a channel in the neck where he placed a metal reinforcement rod that attached to plates at the body and the neck at the nut. This carried all tension and allowed the neck to fully resonate. This design also meant tuners had to be put tuners down at the bottom instead of the head. His Magnum pickups had individual poles hand wound with high impedance wire around a vertical Alnico V magnet. Each string had its own vertically and horizontally adjustable bridge/saddle, plus an additional microtuner that Bunker neglected to patent. If this looks like what showed up later on Floyd Roses, well, ask Dave what he thinks about that.
What all this means is that this guitar was way ahead of its times, probably sporting more technical innovations than any other guitar I can think of in 1966.
I've guessed at 1968 as the date of this guitar. Its serial number is #4001, but that doesn't mean it's the 4,001st guitar he made. If there's any rhyme or reason to his numbering, I don't know it. His main production was done from 1966-1970, though you could still get one as late as 1974, when he began offering DiMarzio options. Plus, it's entirely possible those later ones were unsold stock. This came in an original hardshell case with a foam padding that had turned to an annoying power. When asked about it, Dave just said, "Yeah, we had some problems with that early on."
Dave continued performing and making guitars, coming up with more innovations. If that tension-less neck idea rings a bell, that's probably because it came back to life in 1990 when Bunker became the "B" in PBC guitars, P being John Pearce and C being Paul Chernay. They set up a manufacturing facility in Coopersburg, Pennsylvania, and began producing a line of mostly pretty high-end guitars. They were pretty well received, although somewhat eccentric in shapes, although I don't think they sold all that well. Bunker met Jim Donahue, who was doing design work at Hoshino USA down in Bensalem, PA, and Ibanez contracted with PBC to make its USA Custom USRG Series in 1994. Ibanez liked the guitars and wanted to expand the relationship, but Bunker's partner declined. Ibanez USRGs ceased production in 1996 and PBC promptly went out of business. I remember when leftover PBC stock flooded the Philly market, but I thought the prices too high and didn't pick one up. Another of those "shoulda" moments, since they run about twice the sale price these days, if you can find one.
Dave Bunker still makes and sells guitars. He has an ad in the current Vintage Guitar Magazine.
Dave thought that including PBC and Ibanez production, he'd made around 8,000 guitars. However, if that were true you'd see a heck of a lot more on the market and you hardly ever see them. Maybe their owners just love 'em too much. This is the only Sunstar I've ever seen. Even more amazing since it was produced in the Sixties! Beam me up, Scotty…