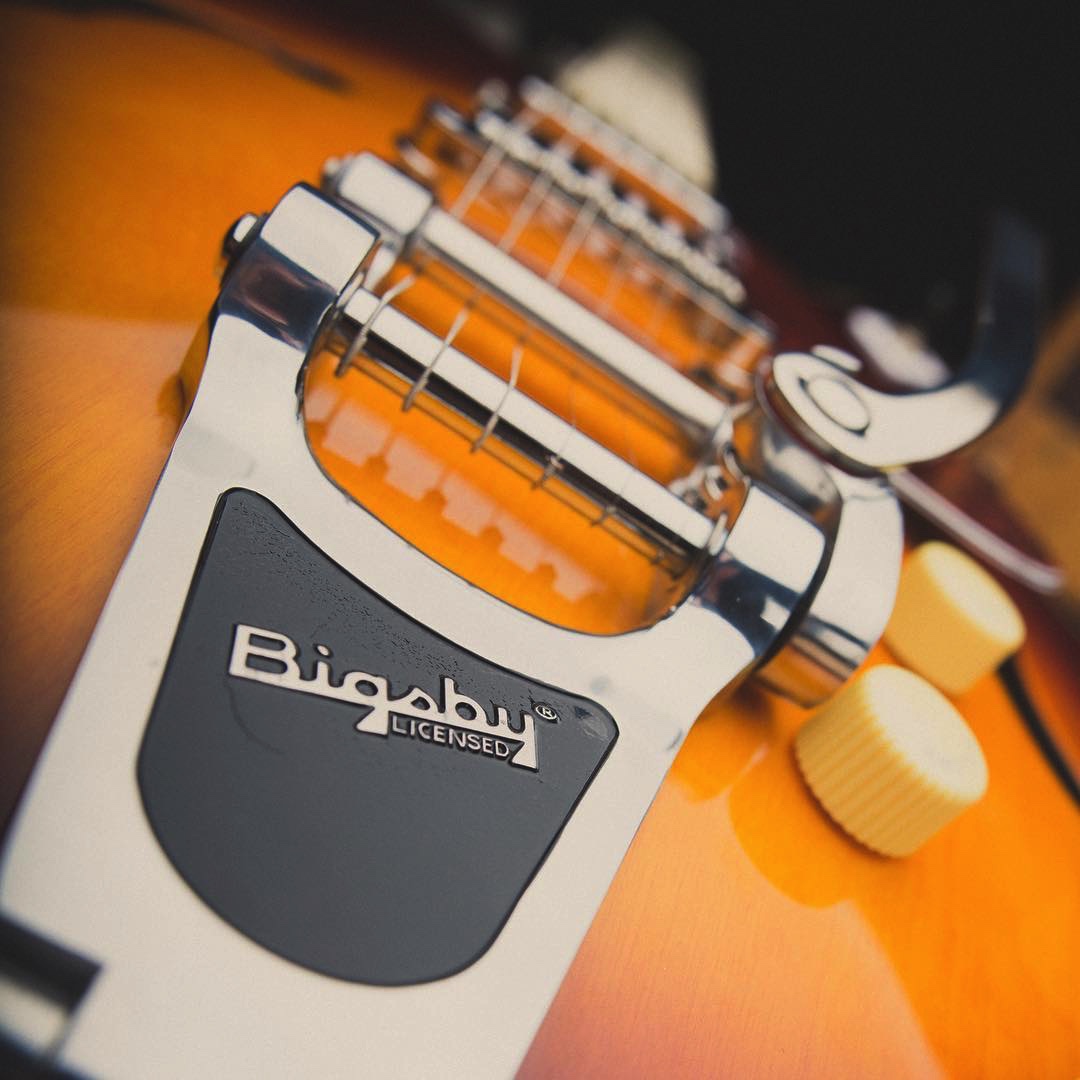 The Bigsby vibrato may not be to everyone's tastes – but we think it looks really good on all kinds of guitars. Here's our list of Top 7 guitars with Bigsby, as played by famous guitarists. Which one is your favourite?
There's just something so cool about a Bigsby vibrato, doesn't it? Well, not everyone will agree with this, but they look sturdy and go well with most kinds of guitars – unlike Fender-style vibratos (also wrongly known as tremolo arms).
Nothing wrong with Fender vibratos – especially the Jazzmaster / Jaguar ones, of course, as any My Bloody Valentine fan will agree. "Floating tremolos" can be fantastic. But can you image a Les Paul with a Fender trem? Exactly – sometimes, only a Bigsby will do!
Besides, Bigsby vibratos were designed so they can be easily retro fitted to most types of guitars – so pretty much anyone with a hardtail guitar can easily modify it with a Bigsby, whereas if you wanted to fit a Fender-style trem, for instance, it'd be more complicated. (Check Bigsby for sale here)
If you still have any doubts about it, here's our pick of Top 7 very different guitars with Bigsby vibrato, as played by famous guitarists. Post a comment to let us know which one is your favourite, or whether we forgot a guitar that should be here!
7) Airline 3P: PJ Harvey, Ripley Johnson, G. Love, Jeff Wootton
Polly Jean Harvey is not just an amazing singer and gifted songwriter – she's got a great taste in guitars, too! After playing Gretsch, Gibson Firebird and Fender Telecaster and Jazzmaster, she chose a (vintage) Airline 3P with Bigsby.
Since then, we've seen many more guitarists choosing this model. Users of Eastwood's Airline 59 3P DLX include Ripley from Wooden Schjips / Moon Duo (who now plays his signature 3P), G. Love (who's also got his own signature guitar), and Jeff Wootton of Gorillaz.
Whereas some people might thing an Airline 2P looks "too Jack White", the 3P with Bigsby is even more versatile and ideal for guitarists who want to experiment.
6) 1959 Les Paul Standard, the "Keefburst": Keith Richards, Jimmy Page, Eric Clapton, Mick Taylor
Some of us (maybe most!) might say that a Les Paul is better with its traditional hardtail bridge, but we perhaps wouldn't even be talking about Les Paul guitars if not for this model – the legendary Keefburst. Why? Well, for the simple reason Keef was the first notable player to play a sunburst Les Paul. He used it on the Rolling Stones' first US tour and extensively on TV shows and recordings, such as "The Last Time".
And more – Keef's Les Paul might've inspired Jimmy Page to get his own sunburst Les Paul, too! As a session musician, Page used Keith's LP on a version of the Stones' "Heart Of Stone". And that's not the end of it: Eric Clapton is said to have borrowed it for a while circa Fresh Cream, and Mick Taylor also played it.
5) Epiphone Casino w/ Bigsby: George Harrison, Paul McCartney, Johnny Marr
What can we say? Both George Harrison and Paul McCartney had Epiphone Casinos equipped with Bigsby. They used it on tracks such as "Drive My Car", "Taxman", on lots of the "Sgt. Pepper" album, and during the Beatles last tour, which included legendary gigs such as Candlestick Park.
Even though both Keith Richards and Brian Jones also played Casinos, it was The Beatles who truly introduced the model to a wider audience. Which also included an young Johnny Marr – who bought a Bigsby-equipped Casino because of the Fab Four, and used it on one of The Smiths' best songs, "How Soon Is Now?" (Check Johnny Marr website for more).
The list of Casino with Bigsby users also includes Thom York from Radiohead, The Edge from U2 and Gary Clark Jr.
4) Harmony H78: Dan Auerbach, Anton Newcombe
Make no mistake – Gibson/Epiphone semis are great, but if they are guilty of one thing, is that over the years they've become a bit generic. Sounds hard to believe, but so many players still get them all mixed-up: 335, 345, 355, Riviera, Sheraton, Casino…
With the H78 there's no mistake! No other semi-acoustic looks like it. The current Airline H78 is a fitting tribute to the original H78, as used by The Black Keys' Dan Auerbach and Anton Newcombe and Matt Hollywood from Brian Jonestown Massacre. Many players who've tried both models will testify that the new H78 is even better than the original!
3) Supro Dual Tone: David Bowie
A fact not always acknowledged by many fans is that David Bowie had a great taste in guitars, as discussed on our dedicated article about Bowie's guitars. So his choice of instrument for his final tour, in 2003, couldn't be better: a Supro Dual Tone with Bigsby – a stunning guitar! That was the first time many people saw a Dual Tone, but in fact this vintage classic featured on some of the most influential recordings from the 1950's… after all, Link Wray used it in classic tracks such as "Rumble".
An original Dual Tone will set you back thousands of bucks, but fortunately, Eastwood's Airline Twin Tone DLX can give you a taste of the original:
2) Gretsch Triple Jet: Jack White
The Gretsch Triple Jet in copper finish is perhaps Jack White's most iconic guitar, after the red Airline. After years with The White Stripes, White had to really choose a striking new guitar to help setting his new project The Racounteurs apart… and besides an Airline Town & Country (as featured on the 'Steady As She Goes' video) he opted for the Triple Jet, which was actually his main axe, live.
A wise choice, too. His customised Triple Jet in copper was a stunning guitar which got many guitarists wondering if they could find one just like it. Sadly, the answer was "no"…
For more about Jack White's guitars, read our previous blog, A Brief History Of jack White's Guitar Collection.
1) Gibson Les Paul Black Beauty: Jimmy Page
What's so special about this Les Paul? Besides being a gorgeous instrument, this is the instrument that helped to establish Page's name: pre-Led Zeppelin, this was the guitar he used on several studio sessions for other artists. He also used it in the early days of Led Zeppelin, but then lost – only to be found more than 40 years later!
So… we think the Black Beauty with Bigsby deserves the #1 spot: a gorgeous guitar, owned by one of the greatest guitarists ever in legendary recording sessions and gigs, and considered lost for many decades – but miraculously found years later. How cool is that?