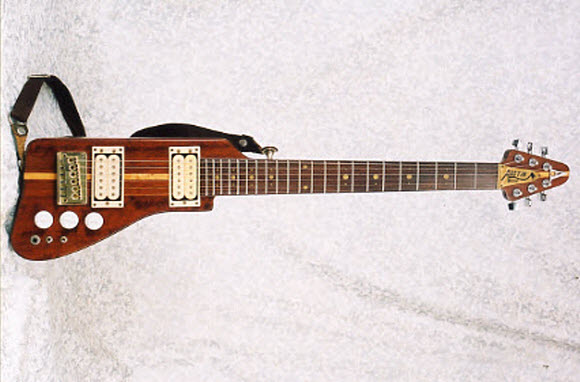 As a rule, I've never been too enamored of "pop" music, if you define pop as largely vocal-oriented music with catchy melodies and easy-to-remember lyrics, almost always love-themed. So, ordinarily, a pop band like The Police would be off my radar. Still, Andy Summers was able to weave some pretty interesting guitar textures—without traditional flash solos—behind Sting's singing, so I paid attention. Besides, it was Andy Summers who almost single-handedly created a market for minimalist guitars like this c. 1985 Austin Hatchet.
Summers famously played a headless Steinberger guitar, which is probably the best known minimalist guitar among guitar fanatics. But it certainly wasn't the first. I suppose the earliest in the category were the first successful electric guitars, the first Hawaiian lap steels. The legendary Ro-Pat-In Electro "frying pan" had a body, neck, and head, but it sure was minimalist! Most electric laps had these elements, but by the 1940s these were pretty perfunctory. How many lap steels are basically a slab of wood with some pickups, a "fingerboard," and some tuners, reducing a guitar to its bare minimum?
I'm not sure who gets credit for building the first minimalist "Spanish" guitar. It pretty much had to be an electric guitar, since acoustics depend on having an acoustic chamber to produce their sound. In 1967 Dave Helland, then a music teacher in Green Bay, Wisconsin, got the idea that an electric guitar needed to be nothing more than a 2×4 with a neck. He had a couple dozen of the legendary La Baye guitars built.
Around the same time Dave Bunker, a guitar player and luthier came up with his Astral guitar designs. These looked like a cross between a Star Trek starship and a guitar. However, many of the parts were screwed onto a minimalist core, so you could customize the way it looked when you performed.
Neither the La Baye nor the Astral guitars were particularly successful, so you'll be lucky to ever play one. The ultimate in minimalist guitars were probably the so-called "fishbone" jobs built by Alan Gittler in New York during the mid-1970s. These reduced the guitar to a tubular spine and tubular "frets." Indeed, Andy Summers played one of these for one of his Synchronicity videos. Only 60 of these were ever made before Gittler moved to Israel, where he became Avraham Bar Rashi and contracted out another 240 or so of a slightly more substantial version, still remarkably minimalist.
Around the same time that Gittler was building his fishbones, Ned Steinberger was coming up with his small-bodied, headless design, which was produced by Stuart Spector. These went on to become the most famous of minimalists, thanks, in large part to The Police. Steinbergers were, however, expensive. To help fill the void, Cort licensed the design and began producing cheaper versions, bearing the Cort name as well as others, including models for Hohner and Washburn. I have one called Blake that used to be my "shore guitar." In 1981 Kramer threw its hat in the ring with its aluminum-necked, headless Duke guitar.
None of the guitars mentioned so far were "travel guitars," strictly speaking, though it was nice that you could pop your little minimalist guitar into the overhead compartment or on top of all your vacation luggage. There were travel guitars in the game at the time, including the little yellow Hondo Chiquita Banana. They were only minimalist in the same sense as the early lap steels in that they were small.
In any case, this was the environment in 1984 when Jack Westheimer of Cort got the idea to come up with his own cross between a minimalist and a travel guitar and designed this guitar. Actually, Westheimer's inspiration was less the Steinberger or Duke or Chiquita and more the Colt 45 handgun. Yung Park tweaked Jack's design and in 1985 the Cort 45 debuted. Jack used to laugh that he was the only one who ever connected either the name or the shape of the guitar to a pistol! Obviously the big distributor Targ & Dinner didn't because they called their version the Austin Hatchet, seen here.
If you like playing minimalist guitars, this actually isn't too bad. The neck-through construction gives it a solid feel. It's powered by a pair of Korean Powersound humbuckers that are actually pretty darned hot. One of the mini-toggles is a threeway while the other reverses phasing. The headstock and tuners do make it a little top-heavy since there's not much body to act as a counterweight.
I've never seen a Cort 45 and only a couple Austin Hatchets. That's no evidence, but I don't think these were too popular! They seem to have been gone by 1986. While other minimalist guitars like the Steinberger soldiered on (even they started getting bigger bodies), the craze for minimalist guitars had pretty much run its course. Which, come to think of it, pretty much also describes The Police, who broke up that same year. I can't recall listening to any other "pop" bands since then either.